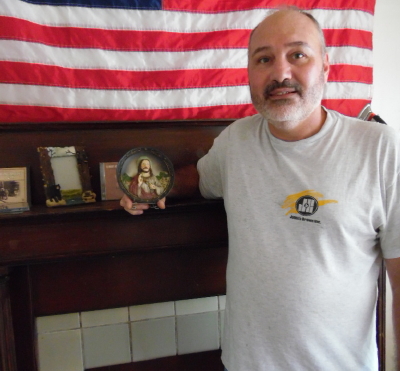 Wingerd's sparse housekeeping items is American flag
and religious artifacts he has acquired since placed
Veteran Ernest Wingerd, 53, said he has had a troubled life, saying "I'm the kind of guy who just doesn't fit in anywhere."
Having served a prison sentence, "I've been a construction worker for years, and at times have really tried to make it," saying he has been disconnected from his family for years.
"I still want to go home," near Martinsburg WV.
He served in the US Navy for five years.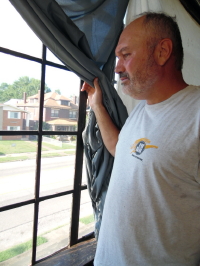 Wingerd (right) says he is use to a lonely life, now living close to community services
"I know what its like to be homeless and hopeless," he said, "but I've always trusted God that a path will be found," saying he has been sober and clean for 8 years.
"I've slept in cars, dumpsters, abandoned houses and in the woods," he said.
More recently Wingerd found himself homeless after being in a transitional house for six months.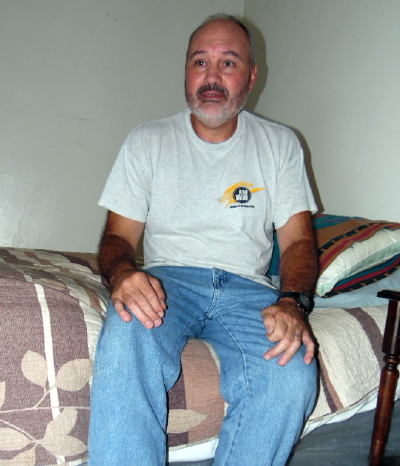 Former homeless vet says, "It's a humbling
thing to need a bed, and now have one"
"I was told about SSVF, and they got me a place and a mattress," he said.
"I had no where to turn, and tonight I have a bed," he concluded.
The Supportive Services for Veteran's Families (SSVF) program in Huntington, which also serves several West Virginia counties, is designed to lift very low-income veteran families out of homelessness and into stable permanent housing.
Through this program Southwestern Community Action and their SSVF program provides comprehensive assistance in the areas of case management, outreach, temporary financial assistance, and referrals to help in obtaining VA benefits.