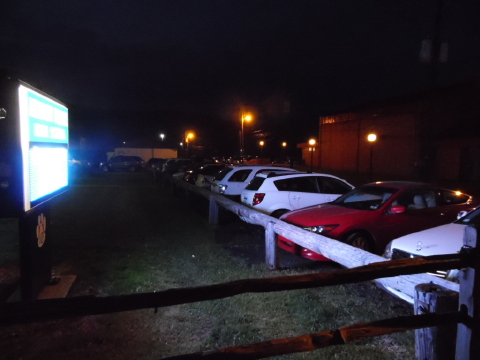 Darkness is falling on Meadow Bridge School and community
By Bob Weaver, Challenge WV
Meadow Bridge High School, designated an "isolated school," is in a rural area of Fayette County near the Greenbriar County line, and is facing closure.
If Fayette County voters approve a state sponsored $66.5 million bond in June, it will mean the closure of Meadow Bridge and Fayetteville High Schools.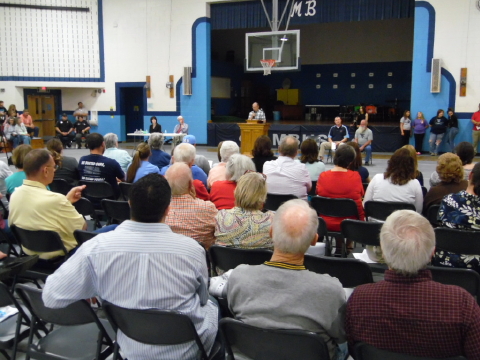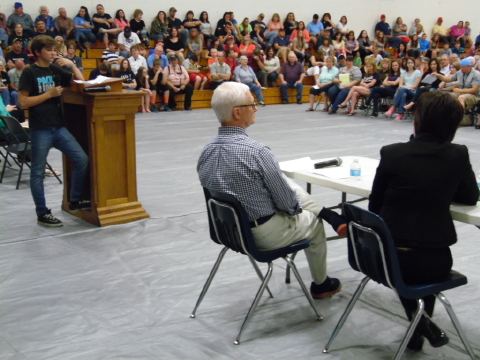 Parents and students pleading to keep
their 235 student, isolated school open
Meadow Bridge School parents, students and community leaders participated in a public meeting with interim Fayette superintendent Dr. Serena Starcher, appointed by the state in a take-over of the county system.
Students and parents of the community school begged for nearly three hours to keep the school off the consolidation chopping block.
"The school board has preached consolidation until they're blue in the face, while the people of Fayette have preached community schools until we're red in the face," said Frank Gross.
"School consolidation has created a chaotic, disruptive environment for thousands of West Virginia students, widening the gap between communities and school systems, and creating long bus rides," said Carolyn Arritt, President of Challenge WV and retired Meadow Bridge teacher.
When school consolidation rolled into WV about 25 years ago, state officials, using an economies of scale model, said it was to save money. National studies indicate it never has.
Then the state's argument shifted to providing a better education, qualified teachers and advanced classes in centrally located schools.
"The state has put us in a tough position. Please go back and tell Charleston that if they want this consolidation, they can pay for it themselves," said a Meadow Bridge School employee.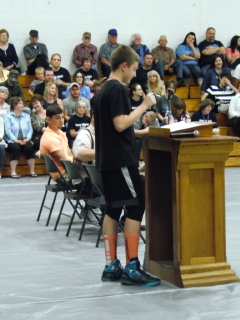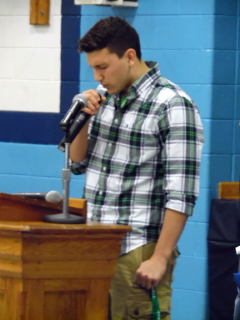 Meadow Bridge students pleading
to save their community school
Lucas Stevens, a Meadow Bridge student, asked the superintendent, "How is being bussed an hour and a half to school going to help my education?"
Starcher responded, "You will have greater educational opportunities."
Lucas then asked, "Specifically what new classes are going to be offered to us?"
Dr. Starcher responded, "I can't answer that question tonight."
"How am I supposed to know it's a better education if you can't even tell me what classes are to be offered?" Lucas concluded.
Gary Redman asked Dr. Starcher, "How many jobs will be cut if the bond passes?"
"I do not anticipate any. Transportation costs are reimbursed by the state," she said.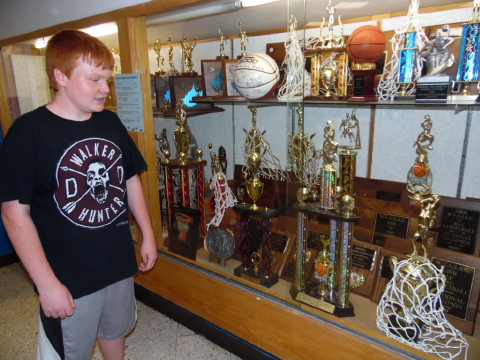 Meadow Bridge student admires trophy cases
Lori Shuck asked, "Where and how is money going to be saved if all the buildings are going to remain open and no one is losing a job?"
A Fayetteville resident asked, "How do you condemn the upstairs of a building (Meadow Bridge), but not the downstairs? The building was perfectly safe in 2013, yet in 2014 it is not?"
Unsafe and deteriorating buildings is now a prime reason for closing community schools.
Coby Rosall, a Meadow Bridge 8th grader, said "Hopefully I will graduate form Meadow Bridge. Small community schools equals large community support. Bigger schools does not equal a better education... You're throwing students under the bus. Long live Meadow Bridge," said Rosall.
An elderly Meadow Bridge alumnus concluded, "Stop threatening to end the food program...The bond is a result of a stacked CEFP committee. If you want our money, start paying attention to us."
During the bitter dispute, Fayette County school board member, Leon Ivey, said "If a bond fails ... there should be a call for blood in every community across (Fayette) county."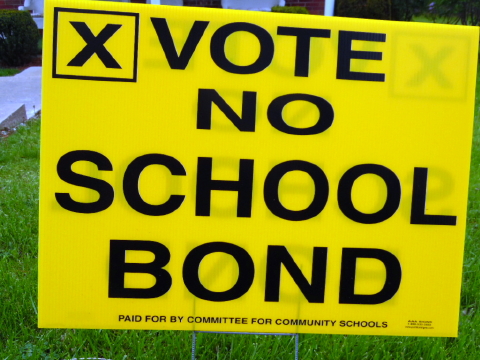 In the configuration of the $66 million
levy, voting YES means Meadow Bridge closes