UPDATE - Testifying before a U.S. Senate panel on Tuesday, West Virginia Attorney General Patrick Morrisey said the Obama administration's "War on Coal" to address climate change by regulating carbon pollution is an unlawful power grab that would devastate the economies of coal producing states and lead to higher electricity prices across the country.

Morrisey, a first-term attorney general and rumored WV gubernatorial candidate, along with Oklahoma Attorney General Scott Pruitt, told a Senate subcommittee on clean air and nuclear safety the U.S. Environmental Protection Agency's proposed Clean Power Plan will purposefully shift the nation's energy market away from coal. The subcommittee is chaired by Sen. Shelley Moore Capito, R-W.Va.

Morrisey said restrictions found in the plan will shut down power plants across the country and prevent new ones from opening.

which he says already is affecting the economy and electricity customers in West Virginia. "It's clear that harm is already occurring," he told Sen. Jim Inhofe, R-Okla., who notoriously threw a snowball across the Senate floor in February in an effort to disprove the scientific community's conclusion that man-made greenhouse emissions cause climate change. "The cost of complying with this rule and the time frames imposed by the EPA is hyper-aggressive," Morrisey said. The EPA's Clean Power Plan, which was introduced last June, creates a nationwide goal to cut carbon emissions and requires states to make meaningful progress toward reductions in the next five years.

Emissions also must be gradually reduced by 30 percent before 2030.

ORIGINAL STORY - Massey Coal, under former CEO Don Blankenship, had by far more safety and environmental citations, and fines, fines at one time reportedly amounting to a billion dollars, while at the same time Blankenship funded a number of campaigns for WV elected officials, at times more than a million dollars to his political friends. Blankenship settled over the fines with a major payment reduction.

A current federal case against him is related to "willful and intentional neglect" in the deaths of 29 miners at Upper Big Branch Mine.

"If It Weren't For MSHA, We'd Blow Ourselves Up"
By Ken Ward Jr., Staff writer, Charleston Gazette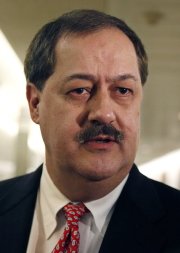 Five months before the Upper Big Branch Mine Disaster, then-Massey Energy CEO Don Blankenship (left) worried aloud about "the craziness" at some Massey operations and told a trusted lieutenant that federal Mine Safety and Health Administration inspectors might be the only thing preventing a major explosion at one of the company's mines.
"Sometimes I'm torn with what I see about the craziness we do," Blankenship told then-Massey chief operating officer Chris Adkins in November 2009. "Maybe if it weren't for MSHA, we'd blow ourselves up."
Blankenship's remarks — recounted in new court records — are among comments contained in hundreds of hours of conversations that Blankenship recorded, but that are now in the hands of federal prosecutors as both sides prepare for a July trial in a case charging Blankenship with mine safety and securities crimes.
The existence of the recordings was first made public in March, when a federal appeals court ordered unsealed previous court filings in the case, including a February request from Blankenship's defense team for more time to prepare for trial.
In that request, Blankenship's lawyers said that prosecutors had designed as possible evidence in the case "approximately 100 hours of audio recordings of Mr. Blankenship's telephone conversations." They said the recordings "will require time-consuming review."
Prosecutors filed a response to note that the telephone conversations were not recorded by a government wiretap, but were "secretly made" by Blankenship of his own conversations with employees, Massey board members and business associates.
The back-and-forth filings in the criminal case, though, did not reveal the contents of any of the recordings. Some of those details were made public in early April in Delaware Chancery Court, during a one-day trial on Blankenship's lawsuit challenging the refusal of Alpha Natural Resources, which bought Massey in June 2011, to continue paying Blankenship's legal costs to defend against the criminal charges.
In the Delaware case, Alpha is basically arguing that it has the right to stop funding Blankenship's defense because company officials "determined that Mr. Blankenship had reasonable cause to believe his conduct was unlawful." Under previous agreements with Blankenship, Massey, and then Alpha, had promised to cover his legal costs, but Alpha says it could cut off payments if Blankenship knew he was breaking the law.
Read the rest of the story Blankenship: 'If it weren't for MSHA, we'd blow ourselves up' By Ken Ward Jr., Staff writer for the Charleston Gazette