By Suzanne Mazer Stewart
MSZFROGGIE@aol.com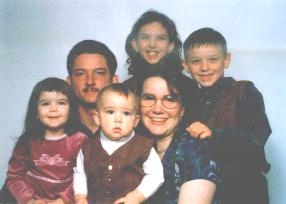 The Stewart Family
Ah, computer! Let me sing your praises! Your little microprocessor brain working feverishly fast. Your little beeps sounding comfortingly soft and soothing. Your presence on my desk a welcome, warm sight. That is, until the darn thing doesn't work.
We recently experienced a nightmarish moment born of the space race and all too common in the cyber age. Our computer clonked, croaked, crashed like an eighteen-wheeler coming down Cooper's Mountain with no brakes. The mother board, it seems, had a nervous breakdown. (Imagine, a stressed out mother in THIS house?)
It all began, or more properly ended, one evening when Brian went to turn it on. He hit the power button and the machine emitted a sound more akin to a Chevy than a computer. Then, the lights went out, everything went dark, and instead of the cute little screen saver one normally sees, there was this ominous message about a "fatal error." In short, the mother board killed herself.
Now, what does one do when there is a sudden, tragic loss in the family? How do you explain to the children that their beloved friend with whom they've spent many a happy hour playing is no more among the living? Oh, the tears that were wept, the wails that were heard, and that was just Brian after realizing he could no longer play his daily game of spades. It would appear that we'd become overly fond of our mechanical companion. Perhaps she'd departed this life to teach us a thing or two.
You see, in the 3 1/2 weeks it took us to replace our dearly departed, we learned to laugh again. We rediscovered the joys of non-electronic fun, like pillow fights, and hide-and-go-seek. Oh, sure, we'd never completely forgotten those simpler pleasures, but we'd couldn't remember a time when all of us could play. When all of us could group in the family room and watch a movie, or play a game, without someone's email or school research getting in the way. Some in our family, though, may have found it a bit of an inconvenience. It seems they had to once again remember our phone number. Gone were the days of type-it-now, read-it-later communication. The original "Instant Message", the face to face, voice to voice conversation, had to take place once again. Oh, the horror, the inhumanity of it all!
Here we are, once again a speed bump on the information superhighway. Once more, we are connected to the 21st century. The soft, welcoming glow of the screen calls like a siren song from the deep. But, I've noticed that our new friend hasn't yet become as close to our hearts as our old friend once was. Why, she wasn't on at all yesterday. And for only a short time the day before. Yes, Frog Pond is yet again connected to the big wide world. But, so far, the traffic on the road seems thinner, lighter, slower. Either that, or nobody is yet willing to trust the new gal to be any more mentally stable than the old one was.