By Jack Cawthon
Ccatharsis@aol.com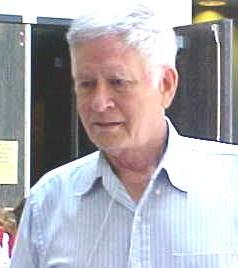 I began writing this column almost two years ago after Bob Weaver extended an invitation. I felt it was an honor and an opportunity to try out a new medium (medium as in occult), although I didn't then, and still don't, trust the Internet.
I had written for the West Virginia Hillbilly for almost eight years and enjoyed the final glory years of Jim Comstock, that unique character of genius who can never be replaced, a true treasure of the hills. Jim had gained national attention many times over with his zany and witty writings. His personal interest in my writing was enough to revitalize me after my 20 years in The Institution.
I have mentioned before that I began column writing for publisher Linn Hickman's Glenville Pathfinder. In 1956 that column won the first place award by the West Virginia Press Assn. as the best weekly newspaper column in the state.
Those were heady years for a student just finishing college. Had I continued writing I might now be a far happier person, but for better pay, and, I thought, prestige, I sold out to Charleston politics for five years as a magazine editor. Again, the opportunity was excellent as I was able to continue writing and, again, received recognition in other state and national publications.
Then (somber music) for the next 20 years I sat at a desk in a university sitting (sic, as in sick). My job description called for editing research publications, and those who have had job descriptions written in stone but with bosses far removed from Moses know that one doesn't stray from the text except to say when asked to do unwanted tasks: "That ain't in my job description!" And those who have experienced it know that a disliked job can take its toll both mentally and physically. Fortunately, mine took only the former.
Why didn't I quit and try something else? Now, there's a novel idea! One can be trapped by money and inertia, and there weren't that many jobs in this state to choose from. I have been a lifelong West Virginian, some would say provincially so, and felt the need to stay close home because of personal obligations. Also, we people with hill roots are not well versed in Middle Class traditions of mobility. And, yes, dear readers, we are still a culture unto our own, and hang those, mostly outsiders, which may be a good idea, who claim otherwise.
Ask those anxious seekers in Gilmer County who turned out for a mass meeting with officials seeking applicants for the new federal prison to open soon. "How many of you want jobs?" the crowd was asked. Almost every hand shot up. "Sorry, we don't have jobs; we have careers," the group was told. I wasn't there, but according to Dave Corcoran of the Glenville Democrat, this was like throwing ice water on people willing to do almost anything for a work opportunity, call it what you will.
And here we can see a major problem in this state. We have administrators in key positions who come from elsewhere, and who are many times something-elsewhere, who don't begin to understand our state and its people. That holds doubly true for a major university, as I know from personal experience. I believe a person's ability and talent should be fully utilized, especially in a liberal higher education environment, but here the rules and regulations are often worse than in private employment and stymie the most creative when administrators are more inflexible than a gulag superintendent.
Those folks in Gilmer County have had many "career" choices from cleaning ditches for the highways department, to Kinney Shoe, Rubber Fabricators, Kellwood, and, let's not forget the major career of a few years back: grubbing away on a hillside farm. No, Virginia, this ain't Kansas. But recent arrivals to the state don't know the difference except that there may be more hills here than there.
But here I am wandering and digressing a bit in my new column career. What I found pleasant in the print world was that readers were there by choice and by check. As a result, a writer could learn to identify his readership, which was stable even if the writer wasn't.
I have no idea who reads the stuff I write here. It is frustrating in a way and a relief in another way. I have tried to offer a variety of different topics. Bob Weaver suggested in the beginning that I could reprint my Hillbilly columns, and I have from time to time when I was stuck, but I can't resist plunging into the unknown and, therefore, have generally done fresh-although to some, odorous-topics, some funny and some serious, and some which to me were funny but which may have been unfunny to others.
And here we come to the conclusion of occlusion. From the beginning I didn't want my address to run with the column for several reasons I could present, but basically, to be honest, I was chicken. In my eight years with Hillbilly I never received a nasty letter, and, yet, I am certain there were feminists reading it, as well as some with a liberal bent, which usually means all out of shape. Maybe no one cared enough to send the very best, or, just maybe, I had an audience as off-beat as I was, or, just maybe, Jim Comstock had set the pattern.
So, up to the present: I am tired of not knowing who or what is lurking out there in the cyber darkness. Now, if you wish to vent your spleen or have a catharsis movement of your own you can reach me with this special e-mail address: Ccatharsis@aol.com. Please be kind and consider my age. Although I'm a little up in years for groupies, I'll try the best.