By Suzanne Mazer Stewart
MSZFROGGIE@aol.com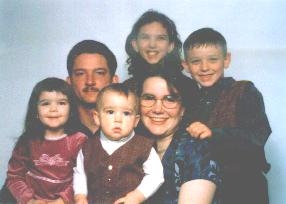 The Stewart Family
When I sat down to write this column, I first thought I ought to do a piece concerning the anniversary of the September 11th terror attacks. Write something about valuing our freedoms and the future of a free American society. Then I thought, "NAHHH! Way too much like something Bob or Jack might do. Leave that sort of thing to them."
So, then I thought I might do a piece updating all you folks out there who might be interested in just how things are going at the "Frogpond Primary School." Some of my readers, it turns out, are fellow homeschoolers, and I got to thinking they might enjoy that sort of thing. But, then, I thought, "NAHHH! Too boring possibly for those of you out there who aren't homeschoolers."
Well, I moved on to idea number three. Hmmm, I haven't done any "look at life in Frogpond" articles in a while. What, oh, what could I possibly conjure up to keep you interested long enough to keep you from turning the page? My husband's four-wheeler incident -- NAHHH! too short and too embarrassing. The cats, the possum, and our trash man -- NAHHH! way too messy and unpleasant. The case of the missing toothbrush -- NAHHH! way too unsolved for the time being.
Then, just as I thought it was hopeless, my muse came in from his nap, had a cup of really bad coffee, lit a cigarette and started doing his job. I could write a piece using all THREE topics. So, to make a long story even longer, here, it is.
The second batch of frogs hatched several weeks ago. There must have been a million tadpoles in the pond. The dog was having a really hard time getting a decent drink, they were so thick. I think he finally gave up trying to spit them out, and started reducing the population. Well now, those baby frogs are the greatest form of entertainment I can think of for the little Stewarts. They just love to watch them develop into four-legged critters ready and willing to keep us up nights with their singing. The other Friday I was inside doing a bit of housework, when I heard a great deal of baby squealing coming from outside. I looked, and my eyes quickly saw all four of the children hunkered down at the edge of the pond. The youngest was pointing and squealing, almost screaming. Naturally, the mother in me had to go investigate what was causing all the commotion.
Before I reached the pond, I realized his squeals were ones of delight, not disaster. So, I slowed down a bit and just sort of eased myself up on them. Our oldest daughter looked up, saw me coming, and ducked her head back down faster than a rabbit that spies the hound. As I got nearer, I asked what all the fussing was about. That's when she turned to face me, and with the sweetest grin on her face replied, "Oh, nothin'." Then she proceeded to burst into what I thought were going to be terminal giggles.
It only took me a moment to discover that each of the older three had a tiny little frog attached to him or her somewhere. What the baby boy had found so amusing was that his sister had hers on her nose. (I'm not lying and I couldn't make something like this up if I tried, I swear.) Right there, in the middle of her face, was a baby frog no bigger than your average thumb nail. The oldest son had two, one on each ear, as though they were amphibious earrings. The littlest girl had hers on the back of her ring finger. (How many carats is a frog, anyway?) They were having a high old time with these little critters, and the baby had the squeals to prove it.
I finally convinced them that I wasn't at all sure frogs were good for the complexion, and I know my kids aren't that good for the frogs. So, with tiny little plops, all the froggies were returned to the pond, safe and sound, if not a little worse for the wearing. We spent some time that afternoon discussing frogs and other pond creatures, and talking about changes we all go through as we grow and get older. We even had a few froggie drawings from our budding artists. All in all, it was what educators the world over term a "teachable moment." The kids just called it our Froggie Friday. Personally, I like that one better.
Now, I'm sure some of you out there are wondering just when I'll get around to the stuff about freedom and America's future, aren't you? Well, here's how I see it: Those children are blessed to live in a country where education is considered a God-given right, and where different forms of thought and different ideas about things are welcomed. As to the future of this great country of ours, it's alive and well and wearing frogs on its face in a little place called Frogpond.