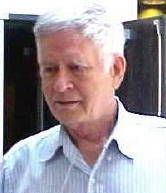 By Jack Cawthon
bbqrun@hotmail.com

When I first heard vortex I thought it was the name of an SUV that a major car company had produced. After all, you see such exotic names on many that are on the road. Most such names are substitutes for "big bomb."

But then I began to hear its use in regard to weather, such as a huge Polar weather vortex is coming. I found that the term was continually hyped and when translated roughly in that manner "we are all going to freeze to death in the dark."

They once were called "weathermen," and they were men who gave us the weather conditions without polish. Then, women began to report. I never heard one called "weather woman" or "weather person." However, suddenly everyone became a "meteorologist." I assume with that title one needs more than a high school education, but not if they become a "weather entertainer" as many have.

The trend is to rename mundane jobs in society. Thank goodness, one has stayed the same over the years, and that is "landman." A landman is now either a man or woman and so far feminists haven't taken offense, maybe because they don't want to be associated with THAT job in any fashion.

A landman, if you haven't met one yet, is one who visits and tells you how lucky you are as the gas company knows there is a big reservoir of oil and gas under your property, it wants to come drill right away, and you will need only to take big checks to the bank thereafter....provided, and that is always provided, you sign a lease right away as the unbelievable offer of 10 dollars an acre may be withdrawn at any time.

So, who could resist such a pitch? But when the drilling rig doesn't show up in a year or two some folks have been known to take a magnifier and read the multi-page signed document. And here you may read something to the effect not to believe anything you have been told; only the written document in your hand is valid.

Also, you will find, roughly translated--oh, the scarceness of translators in life--the company saying we have the right to do any damned thing we wish, drill or not drill, build roads, pipelines, cut trees, build ponds, make noise, cause landslides and scare cattle, store gas and "other" etc.--well, you get the drift as a weather, 'er, meteorologist might say. And, continuing, if we do anything wrong it's called "force majeure," which, again, translates to "Don't blame us, blame God."

And, by the way, (this is a new twist, so beware) since we got screwed over by the Tawney decision in Roane County and were required to pay out millions of dollars, you will bear your share of "expenses" and taxes. Usually, as good grace, the "ha, ha got you" isn't inserted.

Well, maybe a meteorologist may have higher standards, but as far as I am concerned they also deal in a lot of hype. They insist on reporting the weather out in the weather. Cold. Show it in the snow and ice, appearing a big frost-bitten. Storm surge. Show it in water up to the waist. Hurricane. Trying to stand while being blown about. Tsunami. Strap on a portable camera and go with the flow. Well, maybe we should award them a bit for the strangeness. It makes for good TV.

Back in the old days on Barbecue Run we had a wireless outlet. It was called "radio." (As an aside, I may as well admit here that I have bragged and lied about living on Barbecue Run. You see, we weren't on the main drag at all, but on a small unnamed tributary of the main thoroughfare. That same small water branch also served as our roadway. I had hoped that someday it might be called Cawthon Fork of Barbecue, but that would be putting on airs. As it is, I can proudly proclaim I live in Morgantown and was once enshrined in the state's largest mental institution. That is enough bragging!)

But living somewhat in a rural setting, we had radio and a cell phone. Yes, a cell phone! It used two dry cell batteries and had a crank to alert callers by a series of long and short turns. This also alerted everyone hooked to the line and, they of course, picked up their receivers to hear the news. One was careful not to gossip about one's neighbors. But we could learn about the weather on the other holler over.

We got our outside weather reports from whatever radio station we picked up, maybe WLW Cincinnati. We knew what the weather was there, but we didn't know what was coming our way. Good thing. If we had learned it was a "vortex" we all would have been awaiting the end time.

We pretty much had to play the weather by ear--and feel. We could tell hot and cold or if it were raining and snowing without being told. If we had a 50 degree day in January we felt spring was on the way; if the next day it was 10 below, well, must be God's will as we sure couldn't do anything about it, like even going to the supermarket--the post office and store at Letter Gap, a two-mile hike over the hill--as we had all our provisions we needed in the cellar and kitchen.

But today, the weather entertainers, perhaps for ratings, try to outdo each other. Hey, those wind chills are killers. If you go out, be sure to pile on layers of clothing. Here's a tip for your car: the battery may be dead. Be sure to put in antifreeze and check the tire pressure. If there is ice and snow, take it slow. We didn't get advice like that in olden days!

I walked two miles to a one-room school. I never heard an announcement that school would be canceled because of weather. I missed a lot of days my first year, causing the psychopathic teacher telling my parents I could have received double promotion if I had just got my lazy self down the run. I almost became a first-grade dropout, not because of weather, but because I hated the teacher so. I have related many times about the change in my second year, a Godsend young teacher with compassion. To make a long story longer I went on to college and later became a grad school dropout.

We survived somehow without storms having names, wind chill factors, or how fast an egg will freeze in sub-zero temperatures. Yes, that was shown on TV.

And now we have a "Polar vortex" coming down on us, replacing the "Arctic clipper," which ranks right up there in clever expressions with "backyard brawl."

I'm not sure what the weather entertainers will do for an encore. One said 40 below zero is as cold as it is on Mars. If you intend to go there, be sure to bundle up, and, as a precaution, take along some oxygen.