By Jack Cawthon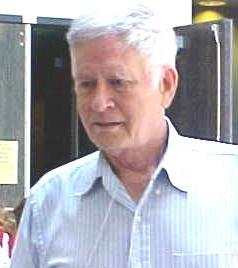 As we go through life we become labeled. We are conservatives or liberals; war hawks or doves; carnivorous or vegetarians; dippers or spreaders; leg men-oh, that's mostly a man thing. Anyway, sometimes you gotta choose either to prevent appearing wimpish or because society dumps it onto you.
Take cat people and dog people. I know some of you can handle both nicely, but there are those of us who were forced to choose early in life. I chose cats because the dogs I had as a kid were stupid. For instance, I had a hunting dog that crawled under the house and hid whenever I wanted to take him hunting. I had a dog that bit my hand whenever I tried to feed him. And now I have an old dog with an obsession for United Parcel Service (UPS). Because she is old and because I don't care much either for the service I let her go crazy every time she sees the brown truck, forget the delivery person who tosses and runs.
But cats are the utmost for those of us who view humankind with suspicion anyway. They openly show the feelings that most people try to hide. They are basically selfish. Feed them and they go to sleep, thank you. That is, until you don't want bothered. Then, they can't get enough attention. They blatantly ignore you until they want something. Sound like anyone you know?
But I thought you might like to read about a special cat that once sought my company. Oh, he wanted something, no doubt. But maybe I rather identified with him. We all grow old you know. And some of you aging males may even have the scars both inwardly and outwardly that this old tomcat showed. Me? I'm just the innocent storyteller.
Some years ago I was awakened in the middle of the night by a sound straight out of Dante's inner rings of torment. It was a sound that could raise the hair on a bald scalp, and the first time I heard it I thought that surely the legendary panthers were roaming the countryside.
Arising from bed to investigate, I found the noise coming from the biggest, ugliest, mangiest orange mandarin of a tomcat I had ever seen. He was a veteran of many wars from his looks, some of them possibly foreign from as far away as Preston County.
His face was battered, his eyes were almost swollen shut, and his ears looked like those of a punched out contender of the ring, perhaps dating as far back as mighty Joe Lewis. As I spotted him in the glare from the flashlight he stood nose to eyeball with a rival who neither matched him in ugliness or intensity or sound and fury.
Somehow I pried them apart, made the orange terror a bed on the porch as he looked as if he needed some R & R and come dawn's early light he was still there, fast asleep.
I had adopted myself a cat, if one can tame the wind, roll back the waves or safely mess around with the Old Lone Ranger.
He stayed a few days that first time, rested up and fed up, he was on his way again like the wind in the willows.
But in a short time, but I suppose a long time in tomcat chronology, he was back and this time I felt adopted. He seemed to think it his duty to guard my premises from other straying toms. At night the howl of the banshees would scream into my sleep and I would set forth to prevent the promised bloodshed like a born-again Woodrow Wilson.
He would be standing in that stance like Horatio at the bridge and hurling insults only a seasoned tomcat knows by curse and heart.
I then did what no sane person should ever do. I would walk over as he let out a painful scream and pick him up, battle stance and all. He would immediately grow limp in my arms as I carried him back to the porch, and I swear he would be purring. He would look gratefully up at me as if to say, "Thank goodness, you arrived in time!" Then, he would go back to sleep until the time came to prove his tomhood again.
This went on for years, this on-again, off-again veteran visitor. I began to observe in the neighborhood little fur balls of orange. I even noticed them over in Preston County and I wondered if he swan the Cheat River or used the Bull Run bridge.
That old tom loved catnip like a street junkie loves his stash. He would nibble it and then roll around in it, and as he rolled he would begin to look younger and younger and then he would begin frisking around like an orangish kitten.
That old cat gave me an inspiration. I knew of a patch of catnip growing in the wilds of Preston County. It was far enough back in the wilderness so that I knew my experiment wouldn't be observed.
I found the patch, looked carefully around and then went down on all four and began to roll around.
I know there are a lot of you old tomcats out there who are anxiously awaiting for me to disclose the results of this experiment, but you'll have to wait until I publish in a medical journal and get FDA approval, which should use up all nine lives of any tomcat now a kitten.
In the meantime, if you feel inclined to prowl and howl take two aspirins and don't call me, as my literary license may be suspended for practicing medicine without good sense.