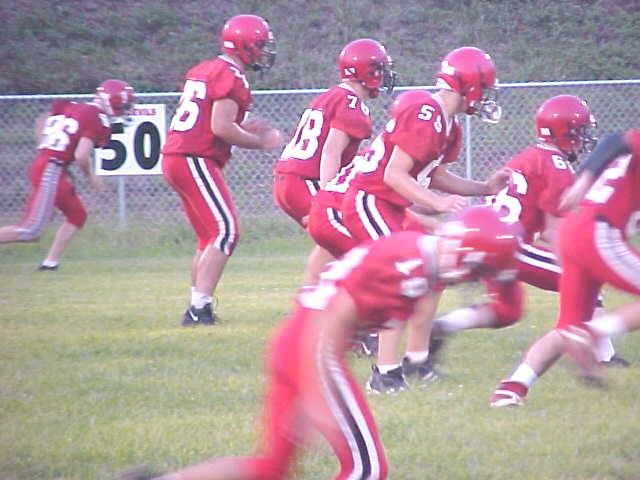 Red Devil team begins "rush toward victory"
Parents, players and community supporters turned out for "Meet the Players" night at the new Calhoun Middle/High School football field last night. Principal Roger Propst said "It is a wonderful sight to see the kids on this new field, and people in the bleachers watching."
"A lot of money, sweat and tears has gotten us this far," Propst said.
The evening was designed to kick-off the fall sports season, and the kids were the "stars," getting introduced for their commitment to the sports program of their choice.
The Calhoun County Athletic Complex Committee and the Athletic Boosters received special recognition.
The cheer leading squad was introduced, in addition to the Calhoun County Red Devil Marching Band, who entertained visitors.
The Red Devil team will play a scrimmage game today with Sissonville at 4 p.m. and Herbert Hoover at 6 p.m., both played at Herbert Hoover. The teams opening game will be with Gilmer on August 30 at Glenville starting at 7:30 p.m.
The JV will play Ritchie at Ritchie on September 9 at 6:30 p.m. The Middle School will participate in a Grid-O-Rama at Spencer on August 31 at 6 p.m. Red Devil Volleyball will play Gilmer/Lewis on September 5 at Gilmer starting at 4:45 p.m. Cross Country will participate in the "Autumn Classic" on September 7 at St. Marys.
This years varsity football players were introduced/grade: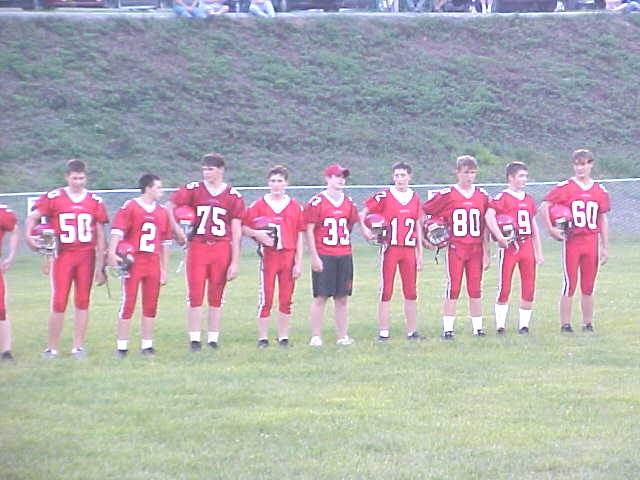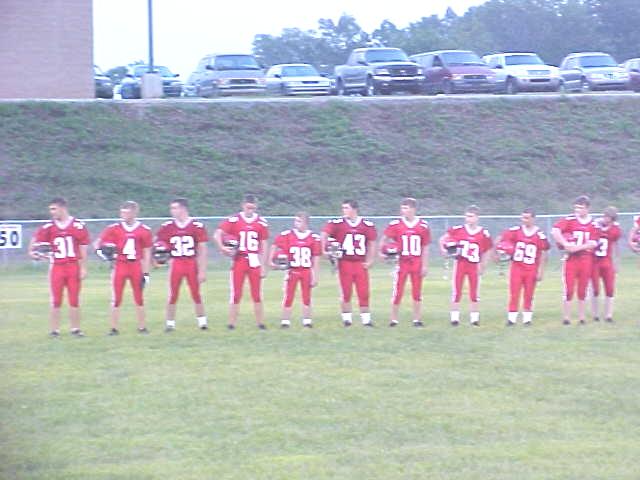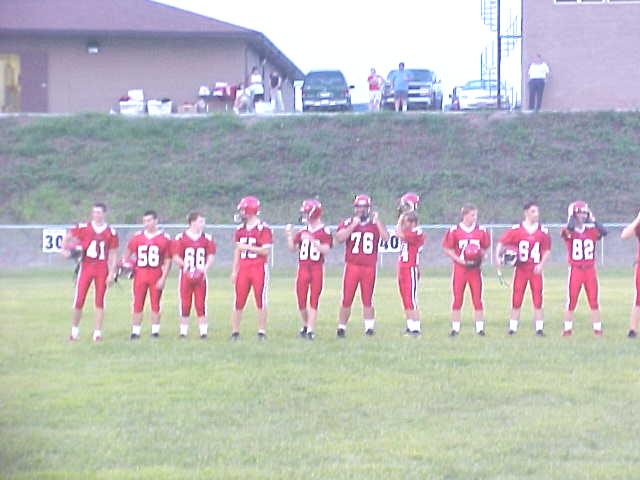 Matt Walker 12, Zach Propst 12, Kevin Lancaster 12, Roman McKown 12, Kyle Craddock 12, Jeff Morris 12, Damon Merola 12, Zach Houchin 11, Eric Metz 11, Derek Roberts 11, Chris Sampson 11,Ryan Fitzwater 11, Marcus Davis 11, Shaun Laughlin 11, Chris Boone 11, Jason Goodrich 11, Justin Price 10, Greg Frederick, Jr. 10, Brain Gungle 10, Paul Goodrich, III 9, Josh Funk 9, Steven Cunningham 9, Tyler Schartiger 9, Chad Conley 9, Jason Cunningham 9, Justin Ramsey 9, Justin Whipkey 9, Michael Sullivan 9, Lee Summers 9, Bobby Toppings 9, Brandon Sampson 9
Head Coach - Buck Stewart, Offensive Coach - Doyle Hupp, Defensive Coach - Jeff Burns, Line Coach - Bryan Sterns, JV Coaches - Terry Villers, Paul Goodrich and Ernie Tingler
Calhoun Middle School Roster: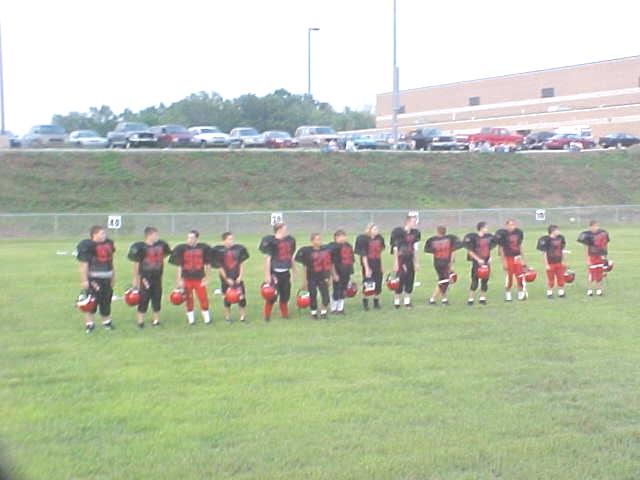 Caleb Hart, Jeff Goodrich, Zach Yeager, Grace Keaffaber, Matt Houchin, B. J. Hall, Eddie Burrows, Chance Hardway, Nathan Lane, Randy Brannon, Cameron Cottrell, Steve Wagoner, John Sampson, Cody Cottrell, Jesse Keesler, Coach Richard Welch.
Soccer Team: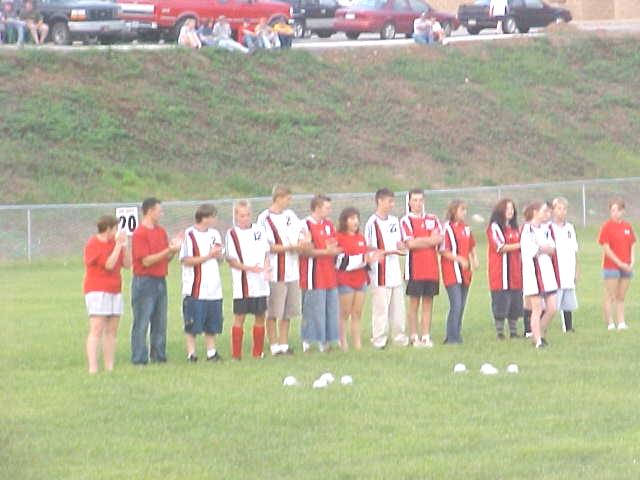 Espe Clothier, 12, Pat Wildfire, 12, Shannon Brown, 11, Chelsie Hupp, 11. Barbara Shock, 11, Matt Worf, 11, Samantha Parsons, 11, Susan Sullivan, 11, Kelley Brown, 10, Adam Rupert, 10, John Villines, 10, Cierra Yoak, 9, Chris Garrett, 9, Alex Marks, 9, Pathrusim Keaffaber, 9, Coaches Maggie Bennett and Phillip Perkins.
Varsity Cheerleaders:
Sarah Lynch, captain; Heather Weaver, captain; Emily Yoak, co-captain; Lena Gibson, co-captain; Dana Yatauro, Alicia Richards, Mallory Hopkins; Whitney Johnson; Jeanette Starcher; Jessica Heiney; Jessica Moles; Trish Siers; Coach Sandy Weaver.
Cross Country:
Espe Clothier, 12, Pat Wildfire, 12, Amber Williams, 11, Chelsie Hupp, 11, Victoria Lamont, 11, Cynthia Wildfire, Coach Melinda Fitzwater.
Volleyball:
Laura Pfeffer, 12; Jessica Gherke, 12; Tia Satterfield, 12; Jennifer Hathshorn, 12; Holly Burch, 11; Brittany Church, 11; Chasity Garrett, 11; Danielle Goodrich, 11; Tiffany Hall, 11; Melissa Hathshorn, 11; Katie Hupp, 11; Britney Riddel, 11; Kelley Sampson, 11; Teressa Siers, 11; Kyerstan Garrett, 10; Andrea Hardway, 9; Kara Sears, 9; Katie Walker, 9; Coach Jessi Evans.
Red Devil Marching Band: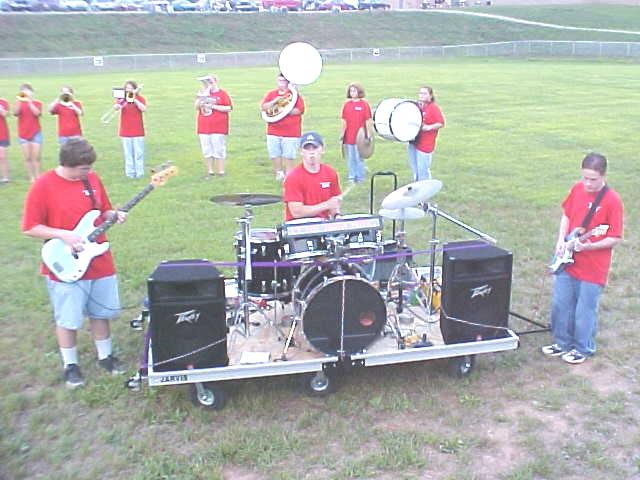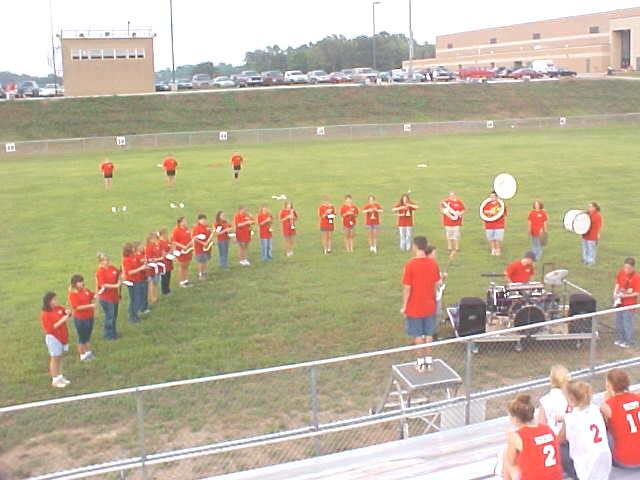 Beth Richards, Susan Sullivan, Brandon Sampson, Jeanette Starcher, Tiffany Swisher, Victoria Templeton, Emily Thomas, William Weaver, Katlin Weaver, Casey Westfall, Christi White, Debby White, Alecia May, James Bailey, Barbara Shock, Briana Blakenship, Matthew Bonar, JJ Bremar, Kelley Brown, Brandon Fox, Kari Frame, Kara Haymaker, Natachia Houchin, Darrell Kisner, Christinia Lovine, Amber Miller, Brian Morgan, Holly Moss, Lauren Myers, Samantha Parsons, Catlyn Pruak, Eva Richards, Amanda Richards, Band Director Harry Beall.