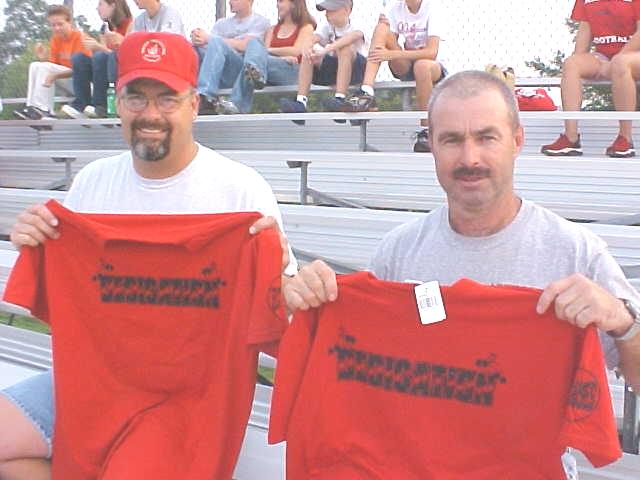 Jeff Houchin (L) and Richard Conley (R) represent volunteer workers
Special recognition was given last night to two Calhoun men who have donated at least 1000 hours each toward the development of the new Calhoun County High School athletic complex.
Jeff Houchin and Richard Conley received shirts for their dedicated efforts toward getting the fields ready, from growing grass, installing bleachers, lights and dozens of other projects. Announcer Rick Fitzwater said "They have been involved with it all."
The Calhoun County Athletic Complex Committee extended the group's appreciation to other parents, individuals and community leaders who have donated time and money to the project.
CCACC president Kelley Houchin said "It has been a struggle, and without our volunteer help we would not be able to open the new field."
Problems recently flared over restricted use of the new field, with some youth league football parents and players upset over a decision to temporarily restrict the usage.
Houchin said she is hopeful the problems between parents, school officials and school board members can be worked out.
"We are all for the kids and we are all trying to do the right kind of things," she said. "We need to be a little patient over the project, which has taken a lot of work."