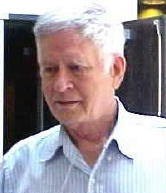 By Jack Cawthon
bbqrun@hotmail.com

It's the time of year for graduations and, in turn, graduation speakers. Do any of you grads, old or new, remember anything of note at your day of liberation?

I don't remember anything about the speaker at my high school commencement, but instead a sidelight that was important at the time. My dad had been seriously ill, we didn't have much money, and I didn't have a decent suit to wear, which troubled my mom worse than it did me. I wasn't the most popular kid in school, having failed in athletics, a serious blot back then, and I didn't much care what I wore. In fact, the story was that a couple of kids some years back whose father was an old time lawyer, but eccentric, had walked across the stage barefoot to receive their diplomas.

But my uncle came to the rescue, sort of. He had a discarded suit and he had always been quite generous to me. The problem was that it looked like something the gangsters wore in the old 30s movies, and, in addition, it needed extensive modifications. My mom, a good seamstress, went to work and on graduation day I had a suit, sort of. I knew that a gown was to be worn over it and I could have faked it suit or no suit.

Anyway, getting to the point, do any of you remember who your speaker was and what he or she said? At Glenville State, after I attended four-and-a-half years to complete a four-year program, mine was none other that James Cash Penney, the original J. C. Penney. Looking him up on the web site, I find he was 82 years old at the time. I considered him old then, but from a young perspective. Today, hey, he wasn't really all that old! (He lived to the age of 96.)

I don't remember what he said, except I'm sure he stressed hard work and perseverance, probably why I wiped it out of mind.

As far as I know, no one from that class went on to found a national chain of stores, although there were notable jock coaches, educational professionals, and a whole mess of other achievers. (I have never made the alumni honor list in any of those classifications.)

The next year Shirley (of Little Woman fame) walked, perhaps a little wobbly, across the stage with our son in situ--a pregnant pause in Latin--a twofur graduation with only one diploma awarded, however.

Her speaker was Ivy Baker Priest, Treasurer of the U. S. at the time, under good Old Ike (not Morris, but Eisenhower). How GSC got those speakers then and later I'll never know, but Harry B. Heflin was president then and a giant in his own right, so we had a college of national renown.

What I'm getting at, even with the best of speakers this time of the year, little is learned from anything they say, at least by most grads.

The speakers generally stress hard work, staying the course (George Junior Bush was notably absent this year, as far as I know), and realizing your dreams.

One notable exception to the usual speakers occurred this year. I was invited to Big Puf to attend graduation ceremonies at Tri-Holler Consolidated High School to hear Bobby Gene Bubba, Big Puf's big delegate to the state legislature, all 350 pounds, speak to the grads.

Bobby Gene began by telling the audience that all that young people needed to heed to get ahead in life was written on the door handle in the back of the room. All heads turned in that direction but only those close enough could read the word. Instead of "push" on the outside Bobby Gene referred to the inside handle and in big letters the word "PULL"

He emphasized the point that kids were going to hear people tell them that hard work would pay off, but he wanted them all to know that that one word, and he spoke it for the far-sighted, would get them much further than anything else.

I knew right then that I was listening to the words of an expert. Bobby Gene added that he had dropped out of school in the eighth grade and that he didn't go to work for "no fast food." He began to run errands for Sheriff Alonzo Pratlow, the political boss of the county then, and he got to keep five percent of everything he collected.

He said that life was nothing but a breeze from then on and soon he was the favorite candidate to represent the county in the state legislature. He had served a lot of years, and he began to count on his fingers until he ran out, saying he was never too good at math except in counting cash, which brought a titter from the audience and whispers of "ain't ol' Bobby Gene somethin'", to which Arley Cleeter, an obvious outsider from Pennsylvania, replied a little too loudly, "but what?" (He received several glares.)

Bobby Gene was brief, a blessing other grad speakers should duplicate, and concluded by saying he hoped most of the kids wouldn't waste their time in attending college, as they probably wouldn't get a job afterwards. He finished to a round of applause, the kids got their rewards on paper at least, threw their caps in the air and most went out to attend raucous parties, forgetting, fortunately, most of what their speaker had said.

But one kid hung around. He approached Bobby Gene, shook his hand, and told him those were the wisest words ever spoken. He said he had obtained a scholarship to a big institution in the northern part of the state but that he was tearing it up, which he did, or tore up something right then in front of Bobby Gene.

He said he wanted to follow in Bobby Gene's footsteps, but he knew his shoes would never fit those giant steps. "Let me carry your briefcase, Mr. Bubba," he said, "and I would be happy to drive you home."

Bobby Gene looked at the kid, shook his head, and told him he reminded him of himself at an early age. He told him to come by his office the first of the week, as he thought he could offer him a little work.

There was an election coming soon and he needed a good worker up on Little Wheeze Crick. You know, to hand out campaign literature and a little something else as an inducement for reading it, and he winked. The kid, showing his brilliance at an early age, winked back.

And there I saw success in the making. Kids are going to college for four years and coming out not finding a job. Here was a kid just finishing high school with a job and a bright future ahead just because he paid attention to a graduation speaker. And I thought of all those wasted words of Mr. Penney back years ago. Who needs a chain of national department stores and all the hard work that goes with them?

The word on the door said it all: pull. Let push be in the mind only of expectant mothers.