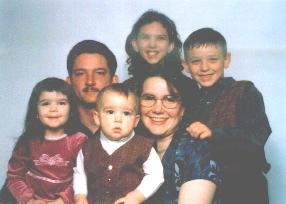 The Stewart family
By Suzanne Mazer Stewart
August brings with it the Summer's most oppressive heat and humidity. It settles down like your unwanted mother-in-law during an unwelcome visit. It's 31 days pass in a haze of hot and heavy air so close, so thick, you'd swear you could chew it. Dog days, indeed.
Now, it's my experience that there are two ways of dealing with unpleasant things you have no control over. You can either make the best of it, putting on a happy face and finding the good wherever you may. Or, you can complain about it until you make everyone just that much more miserable.
It's to the latter type of individual I'd like to turn our attention. You see, these folks have actually done something remarkable. It's thanks to them we owe the addition of many colorful phrases to our language. You can't constantly and repeatedly gripe about the same old thing in the same old way. Your audience becomes bored and tunes you out. So, therefore, you must contrive new and varied ways of saying what it is you have to say. Ask any preacher if this isn't true. And, just like those Sunday speakers, you've come up with some good ones worth remembering.
After extensive research, (oh, all right, I'll admit, I hung out in front of the local barber shop for a few minutes the other day,) I've discovered a few old phrases are still in service. I've also uncovered a few new ones, too. The spirit of competition was in the air in the shade of the barber shop. The fellows were doing their level best to come up with one better than the last one. Maybe it's because they realized I was there, and wanted to impress me. Whatever the reason for it, the speakers were fine, indeed. Below are some of my personal favorites from that afternoon:
"It's hotter than the Devil's kitchen."
"It hot enough to make the Devil cry."
"It's hotter than the Devil's dance floor."
(It seems that Satan gets a great deal of attention this time of year. Perhaps our clergy should look into this.)
"It's hotter than my wife last time we fished all night."
"It's worse than kissing your sister."
"I hear Bob there saw a groundhog stealing ice from his beer cooler last week."
"It's so hot, you get tired just thinking."
And, finally, my all-time personal favorite: "It's enough to make the chickens sweat."
I don't know what type of person you are. I don't know if you revel in every situation, finding something positive wherever you turn. I don't know if you're a cockeyed optimist or a Pollyanna. But this time of year, I wouldn't blame you if you, too, came up with a new and colorful way to express your misery.
One thing, it seems, it's not too hot for is creative thinking. Something about August brings out the speaker in us all. Or at least the competitor. So, if you feel compelled by the heat or just to "one-up" the fellow next to you, do it with care, in the shade. Have a nice tall glass of lemonade close by. And watch out for the sweating chickens.
You may contact Suzanne at
MSZFROGGIE@aol.com