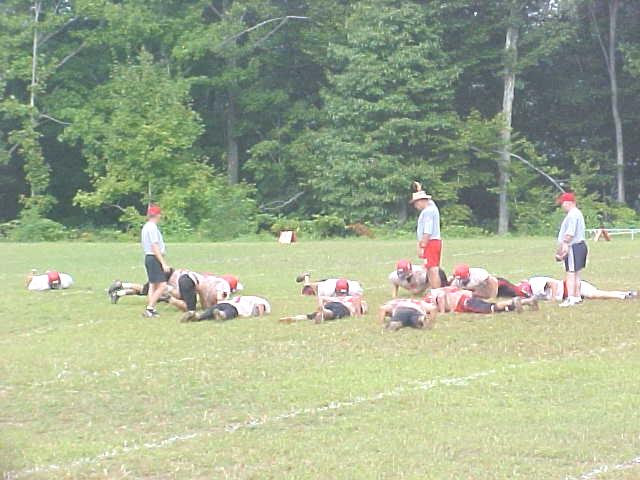 Coach Buck Stewart exercises his athletes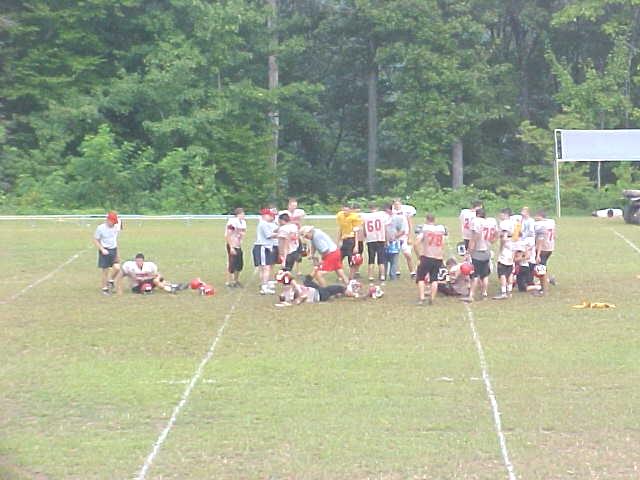 Hot temperatures draw a sweat
This is the second week for Calhoun High's football camp and Coach Buck Stewart and his assistants are putting the team through some rigorous training. It is another hot week, with temperatures into the 90's.
The Red Devils will launch their season playing away at Gilmer County on August 30, with a second outing scheduled at Ritchie County on September 6.
The big event is the official opening of the new field with the first home game against Doddridge on September 13. It is expected to draw a large crowd, with several special events scheduled.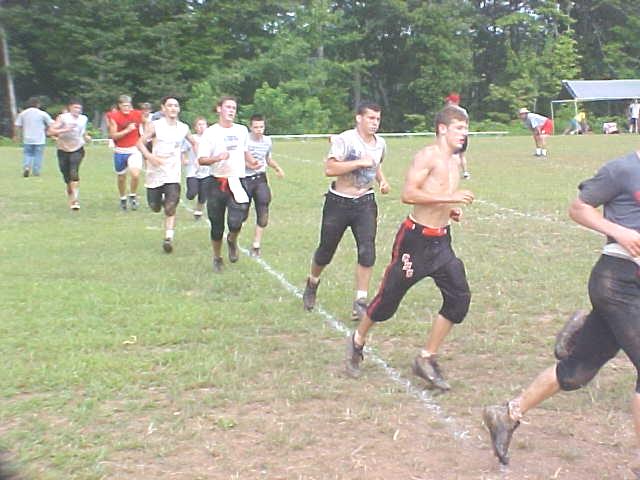 Building steam around the track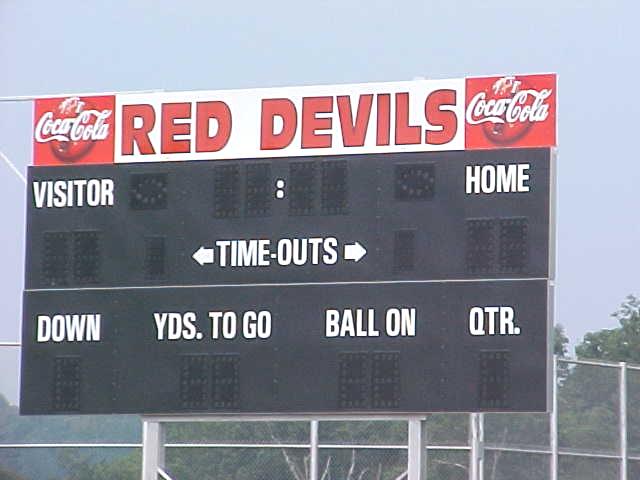 Scoreboard waits for opening game and that first TD
The new field has had its ups and downs, with one scheduled opening set back a year, the team returned to the old Wayne Underwood Field at Grantsville for the 2001 season.
The CCACC and other volunteers have put in thousands of hours collectively with limited financial resources to ready the Calhoun High athletic complex.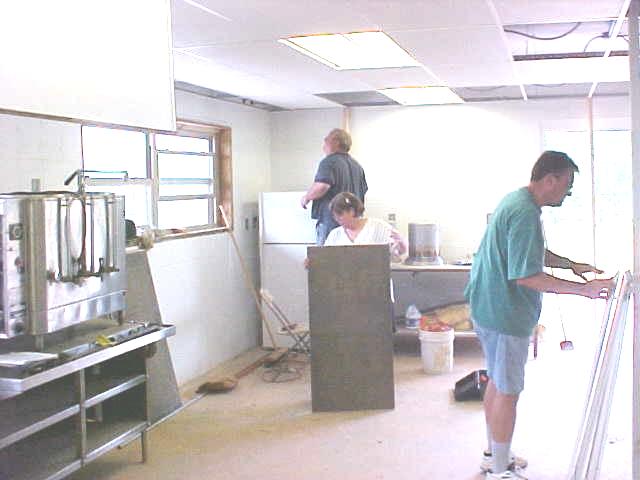 Band boosters work on new snack bar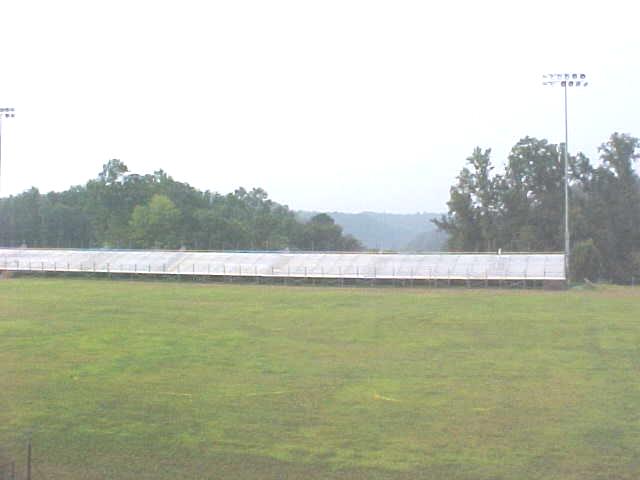 Old bleachers have new life
Principal Roger Propst has expressed serious concerns over the fragile condition of the field, with the rooting of the grass. Drought-like conditions have prevailed during the past several weeks, which has not helped the field. Efforts are being made to water the grass.
Controversy erupted after Superintendent Ron Blankenship, Propst and the local school board denied use of the field to youth football this fall. (See earlier Herald stories/letters to the editor)
Band master Harry Beall said he has about the same number of musicians as last year. "A great bunch to work with. They get along well," he said. Beall said he lost about seven members.
The band was enduring the hot sun, going through some marching drills. "We'll be ready for football season," said Beall.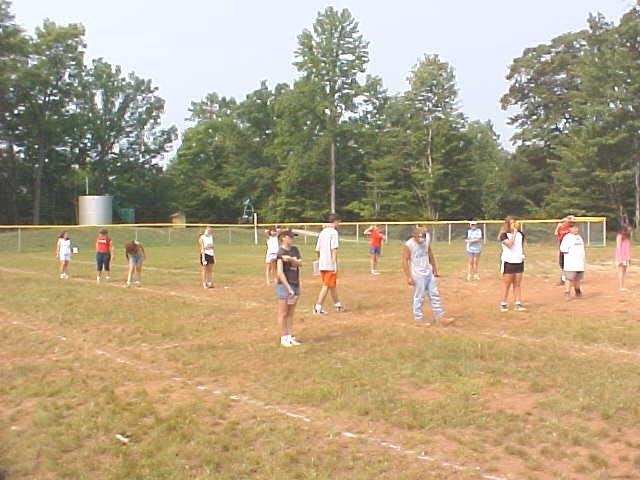 Red Devils marching band have summer camp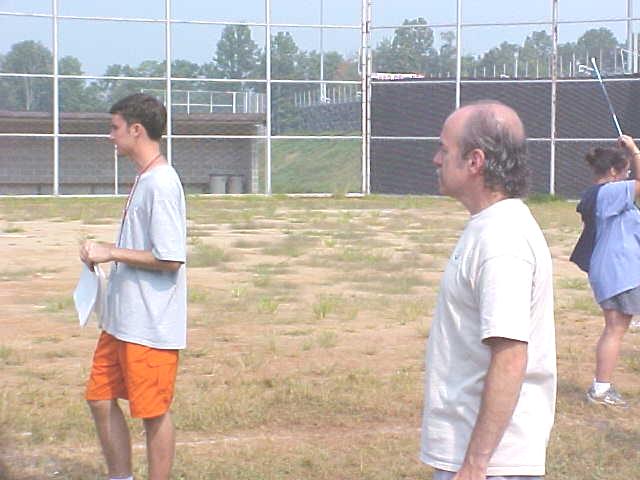 Harry Beall (R) and Matt Bonar (L) direct exercise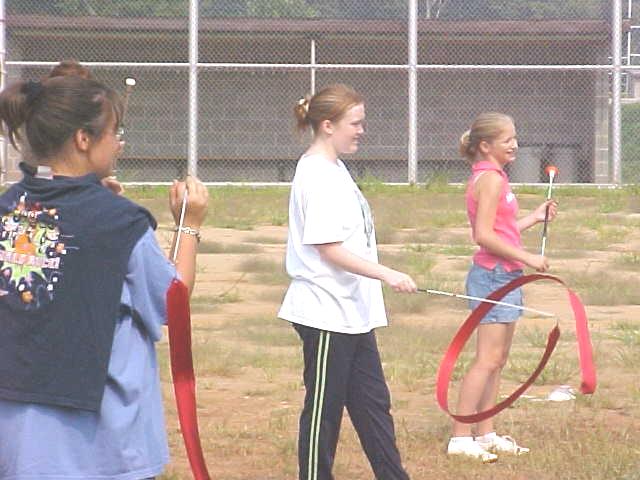 Kids are getting into band activity
Long time band booster and supporter Bob Bonar and some volunteers were doing work on the new snack bar, which will once again become famous for those Calhoun County hot dogs, it's really the sauce which goes upon the wiener that makes them great. The band boosters are looking for community volunteers to help with the snack bar. Help is really needed, said Bonar.