Colorado Springs And Pikes Peak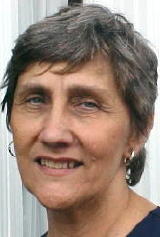 By Ann Francis
arichards.francis@gmail.com.com
I will spare you the long drive getting across Kansas and Missouri. It can be tiring. There are a few rolling hills, but to the heart of a West Virginian, these do not qualify as hills. West Virginia hills are the only hills we know.
The nearest thing to hills we could see were the little mounds of dirt made by the prairie dogs from digging their borrows in the ground. We stopped at a state park to rest for the night and we were surrounded with those little hills of dirt. When we stepped out of the truck, the prairie dogs barked at one another warning each other that we were there. Then they disappeared into their little hiding places only to reappear to bark at us again and again.
STAY OFF!
got a picture of one of them that was close to the roadside. It kept chattering at me to get off its turf. An adorable little critter.
Our destination next day was Colorado Springs whose main attraction is Pikes Peak. It would be a new adventure for me and I was looking forward to the trip up that mountain. Finally, there it was, rising out of the desert. It hovered over Colorado Springs like a huge blue-gray fortress.
We found a campground nestled at the foot of the mountain. A nearby stream made gurgling sounds and I hoped there was no storm on that mountain that would change it into a flash flood.
We were too tired to go out for food so we ate a snack and went to bed. Settling down for the night, I remembered that Harold had told me I would get dizzy on Pikes Peak. I did not think about it again until I climbed out of our truck on top of Pikes Peak and could not walk straight.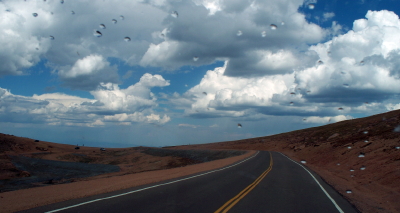 Climbing Pikes Peak the easy way
If you have not been to Pikes Peak, you should go there. It is an adventure. From the top it seems like you can see all of America.
I will save the rest of that story for the next time. For now, that's all from where the heart is.