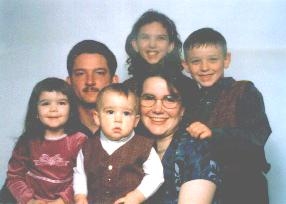 The Stewart family
By Suzanne Mazer Stewart
It's almost here! That blessed event eagerly anticipated for months, that joyous day full of so much promise, that moment of bliss all parents long for -- THE FIRST DAY OF SCHOOL!
I can't think of one parent of more than one walking-talking child who isn't long past ready for school to begin again. I know there are the hassles of school shopping, and the hassles of getting them used to going to bed and getting up at the right times. But each time I have to circle the mall parking lot looking for a space less than a 1/4 mile from the entrance, I say to myself, "It's almost here, it's almost here........" Every whine and grumpy face at bedtime and morning wake up is greeted with a silent, "not too much longer now..."
I love our kids, really, I do. I like to think that our love is the only thing that has kept them alive this long. Without it, I'd probably take my mother's suggestion to lock them all in the basement and keep the survivor. However, I truly think the school board's Summer vacation is about three weeks too long. The entire month of August is one big prize fight around here. Why, yesterday, even the baby had had enough! He waited until his brother was lying on the floor, and then plopped himself right in the middle of his back and started pummeling the back of Bubby's head. You know it's bad when a 16 month-old feels the need for physical violence!
I did a column last Winter on the hazards of snow days. I had completely forgotten, by then, the headaches of spending 3 months with 4 children. Now, June and most of July aren't too difficult to deal with. June is filled with the wonders of not having to get up early, not having evenings filled with homework, and just the beautiful joys of Summer vacation. July starts off with Independence Day celebrations and ends with the district fair, giving them both new topics of conversation and something to look forward to. August, however, is a completely different matter entirely.
Did you know that yesterday it was too hot to swim? And that the lightning bugs of August aren't as fun too catch as June and July's? Oh, and don't let me forget that ice cream treats get boring about this time of year, as well. Video games, bicycles, basketballs, and even the "cold" seat on the sofa (the one directly in the path of the air conditioner duct) have all become bones of contention, worthy of at least a heated argument. "Did not-did, too!" and "I'm tellin'!" are the unofficial mottos of the month. The tempers rise faster than the thermometer on an August afternoon. They've had it with each other, with their toys, even the dog suffers from Summer's too lengthy time frame.
The first day of school brings a bittersweet release of tension. Sure, it's still hot. Sure, it's the same old faces and things they come home to every day. But there's something about that forced absence of 8 1/2 hours or so that does wonders for their demeanors. The older two come home relieved from the rigid routines imposed by their school bells. The younger two greet them with joy and excitement, glad to have their favorite playthings home once again. For me, school brings more running; football practice, cheerleading practice, mid-week children's program at church. It also brings more routine; certain things must be done on certain days, certain times must be set for certain activities. I get more accomplished during the school year than during the Summer months because the more demands on my time, the better I manage the time I have.
Our school starts on August 26th this year. To the dismay of our two young scholars, I've already marked the day with big, (I mean BIG, too) stars and the words FIRST DAY OF SCHOOL so dark you can see them very clearly from across the room. Now, I must simply wait. And wait. It's almost here...
You may contact Suzanne at
MSZFROGGIE@aol.com