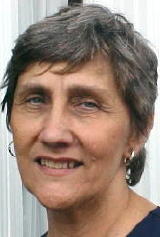 By Ann Francis
arichards.francis@gmail.com

People keep asking me why I don't write anymore. Someone asked if my pencil broke. Today when another person asked, I lied and said I lost my inspiration. No excuse. I'm lazy. So, since you keep asking, let us share our 2012 trip out west.

The inquirer today wanted more about Wyoming. It's nice to know what people want to read about.

To begin this journey, we decided to take the roads less traveled to avoid the boredom of the interstate traffic and the endless flat fields of corn and soybeans. So, we took Rt. 64 and 60, Rt. 36, Rt. 50 and 150, through Kentucky, Indiana, Missouri ("Misery", Harold calls it) and Kansas, to Rt. 24 and on into Colorado Springs, Colorado.

If we have to drive all those miles to get to Wyoming, then you, dear readers, must do the same. Stay with us and you will get there too.

Our first campground was at Elkhorn Campground at the Forks of The Elkhorn in Frankford, Kentucky. It was a nice quiet place, probably because the summer vacationers had gone back to jobs and schools.

I love to get pictures, but with my small camera and having to get good shots from a moving truck, it was not easy. Churches and old barns are some of my favorite subjects for pictures as well as the landscapes along the way.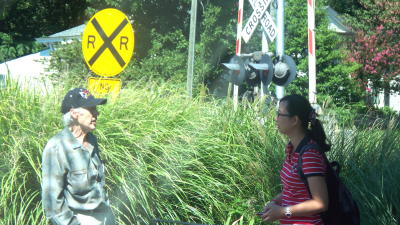 And every now and then it is fun to get a snapshot of someone standing near a traffic light or gas price signs. Travel now is truly highway robbery. But, God provides no matter how much the oil companies continue to be dissatisfied.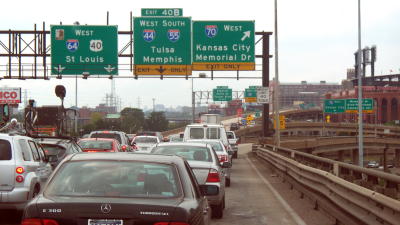 We got in St. Louis traffic and for a little while thought maybe it was not such a good idea to stay off the interstates. We kinda got lost there and our gps got confused as well. We finally found our way onto the interstate just to get past St. Louis.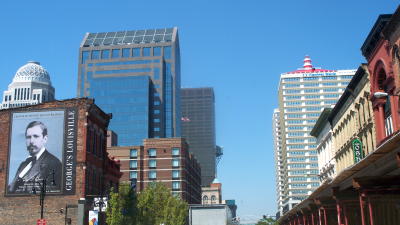 Since pictures say a thousand words, let them tell the story through Kentucky, Indiana, Missouri, and Kansas. Hope the pictures are not too uninteresting for you. Enjoy the trip out west.
That's all for now from where the heart is.