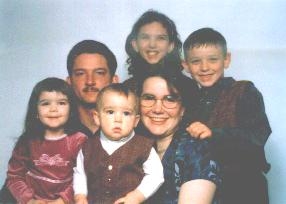 The Stewart Family
By Suzanne Mazer Stewart
Ever since the first good ol' boy got his first two-wheeled horse cart over the mountains way back when, there's been a certain fascination amongst the country boys with any thing that has wheels. We've probably got more shade-tree mechanics than there are trees.
Summer Friday and Saturday nights, the local dirt tracks come alive with roaring engines and roaring fans. Every county/district fair, it seems, is its own version of Redneck Motor Sports, with demolition derbies, truck/tractor/ATV pulls, and mud boggin'. Oh, it's enough to make every male heart flutter like a bad carburetor valve.
My hubby is no exception. If it's not the ATV, it's his "baby;" a vintage Chevy Nova in serious need of a new paint job. (Let's put it this way, it's shinier UNDER the hood than it is outside.) If it's not one of those two, it's his truck, a black behemoth it takes me a step-ladder to get into. I didn't know Auto Zone sold THAT much chrome!
Sunday afternoons at our house are devoted to NASCAR Winston Cup. Since Brian and I can agree on most things except who happens to be the best driver in the world, more than just the engines get overheated, I can tell you. I had to stop letting him watch the races with the kids there for a while, though. You KNOW you're a redneck when you teach your little ones to recognize their numbers using the ones on the sides of the race cars.
Well, the governor has announced that West Virginia will be getting its own racing complex down in Flatwoods. Not big enough for the Cup cars, but there's already plans to bring in the racing trucks, and some of the "smaller" racing series. I have one piece of advice for the developers: 10,000 seats probably isn't going to be enough, unless you're planning on charging too much to sit in them. We can fill Mountaineer Field with 70,000+ people. And that's just football we're talking about, not things with tires that can go really fast.
I have a bit of advice for the state government, as well. Don't let this Thunder Ridge race track host events more than six months out of the year. What with hunting season, fishing season, and football season, we Mountain Mama's see precious little of our menfolk now. You add a racetrack with all its heady perfume of gasoline, and well, don't be surprised if the divorce rate rises faster than RPM's on a hot rod.
You may contact Suzanne at MSZFROGGIE@aol.com