By Jack Cawthon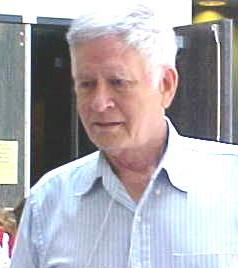 I heard the hail of "Hi ho, Hawthorne!" as I walked down High Street in downtown Morgantown . The salute immediately triggered the traumatic stress syndrome flashback of long ago when an old coach in order to entertain some jocular jocks would summons me from the bench with "Come on, Hawthorne, let's see what you can do," and then everyone would be in stitches as I tripped over my legs, wallowed with the ball, and, throwing it high in the air, missed the backboard.
This provided another unlettered sport for the coach, the squad, and the janitors on the sidelines, but for some reason left me viewing them as ill-fitting athletic supporters. Today, I hate all sports, including Tonya Harding.
However, if this was an old jock hailing me, then he certainly needed a fast jolt of steroids as he appeared a scarecrow of a figure as he staggered from side to side on the sidewalk, muttering to himself either something from Shakespeare or Bob Dylan with his mouth full of harmonica.
"Is that you, Hawthorne?" he called out again as he approached me. A whiff of his breath led me to believe that he had recently sailed with Captain Morgan around Montego Bay on the good ship Bacardi. He was dressed in Johnny Cash black, either by intent, or wash and wear, which so far had seen little of the former. His hair was wavy-in all directions-and his beard was clotted with enough tobacco stains to lawfully require a warning from the Surgeon General.
Some of you may have already assumed that this was a merely a man of the Morgantown street what time he wasn't under the Westover Bridge. And even I must admit that I had a few coins ready in my hand to hand over for an urgent appeal for a telephone call to his mother, to buy a newspaper for the want ads, or, best of all, stamps to mail in his disability pension application.
But I, as a professional with years of observation of the Morgantown street life, soon realized that this was no ordinary wayfaring, welfaring stranger, but a professor of the creative arts, perhaps creative writing, whatever that is.
I have learned to distinguish between the academic disciplines in this university town merely by outward appearances. Journalists dress better than most others as they are always seeking a better job doing something else and hope to impress their betters, which the U. S. Census might define as somewhere in the 90th percentile; musicians wear dark glasses, well, for obvious reasons; and real artists, as well as bald old guys, wear berets.
But standing before me was someone I recognized from long ago who to remain anonymous I'll call John Poe. Poe had become an assistant professor at a nearby university and hadn't been heard from since, a fate I knew all too well myself. I had assumed from his looks that he had fallen on hard times, and I had heard the rumor that he had even been banned from the Pokeroot Writers, a local congregation which met frequently in dark alleyways and unlit beverage parlors to compare rejection slips and read works in progress of members which could then be torn apart. Rejection could then be replaced by dejection, a school of writing known as masochistic blank verse.
"You still working in the barnyard, Hawthorne?" he asked. (He may have said "vineyard" but as I am so sensitive to my past employment I always assume the worst.) I assured him that I was no longer on The Payroll, but had been pardoned by the pension. "Ah, yes, my good man," he replied, "I have heard that you have sought sanctuary in the confines of Big Puf." I was astounded by how word travels!
But turning the conversation aside, I asked how his life had been going. Ah the humanities! I found that Poe the once promising writer, having been published in Up Cricks and Down Hollers, an avant-garde publication of classical provincial writers, had now fallen to writing bawdy verses for Hillbilly Holler.
He smiled wanly and said that at least he had something to list on his evaluation form each year, but that his tenure had become torture, and here a tear slid down his cheek, washing a gully in the topsoil. And, lo, if the Good Book will pardon me, he had married his niece! He was quick to point out that both the noted Parkersburg writer Blenner Hassett and the rockabilly poet Jerry Lee Lewis had preferred kissing kin.
Surely a well-known university, at least in the northern part of the state, wouldn't discriminate even discreetly against someone, however ill-conceived, who preferred kith and kin as a mate over a total stranger especially in a state that has had a long tradition of such close family ties!
Once again he inquired about Big Puf and the inevitable question as to how one might find it. Of the many questions that arise from my writing the second most asked after "Why did you ever leave hillside farming in Gilmer County?" is "How do I find Big Puf?"
Poe was plaintive. He wanted the freedom that he imagined Big Puf could offer. He had heard that even an illiterate author could achieve fame there, and as he, Poe, had served with enough witless colleagues he felt illiteracy might be an advantage.
I said something shallow like "I'll get back to you," a line I had used many times while serving the public in the hopes they would forget my telephone number later.
I knew in my heart that he wasn't right for Big Puf. We are highly tolerant of town drunks, but as we already have one intellectual in Arley Cleeter, two intellectuals might give the place a bad reputation.
As Poe sauntered on down the street a pigeon suddenly alighted on his shoulder, and as it flew off I distinctly heard it croak "nevermore."