Bob,

My brother, Dennis Crawford spoke with you about our Father, Dare Crawford and the story that was in the Goldenseal and the Augusta Heritage Center publication.

I thought your readers would enjoy this baby picture of Dare and to also know that on July 5 he celebrated his 90th Birthday.

His daughter,

Sharon Combs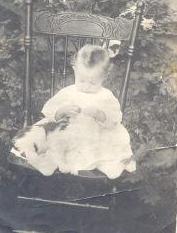 Dare Crawford is the oldest son of the late William T. and Easter Wood Crawford. Dare and his wife Greta (Dillon) now deceased, lived on Crummies Creek for 50 years. It was there that they raised 6 children, Carolyn, Stanley, Sandra, Wm. David, Dennis and Sharon.
Best known for his work as a carpenter, Dare was also a stone crafter, blacksmith and farmer.