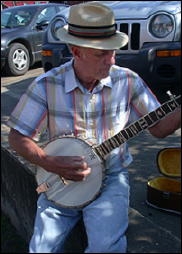 By Mack Samples
www.macksamples.com

The liberal news media and the publishing world, I suppose, think of themselves as the intellectual elite of the country.

They may not actually be the intellectual elite, but since the publishing world controls what gets in print commercially and the liberal news media reviews what does get in print, it's pretty hard to argue with either of them.

If you read novels about West Virginia which were published by one of the major publishing houses, even those written by West Virginians, one thing comes to the surface very quickly.

The publishing world does not want to deal with any novel that presents West Virginia in a positive light.

West Virginia based novels that get published by the big publishing companies always portray our state in a negative way. These books generally display how it was to live life in the poverty and squalor of the company coal towns, or the trials and tribulations of growing up in a family that sniffed gasoline or manufactured meth.

Or, in more modern times, major publishers want to publish novels that show the evils of mountaintop removal, living in a dysfunctional family, or about West Virginia men who stay drunk all the time and intentionally deprive their children of gaining an education.

Worse yet, some of the novels portray people who are off the deep end in some kind of fringe religion (even serpent handling). Pen a novel that portrays all of the coal company owners as greedy heathens and the publishing houses will get in line for it.

When the uninformed reader sits down with such a book, he or she comes away thinking that all West Virginians live such lives.

The national news media boosts such ideas with their reviews of the book. Or, sometimes, on a sliver of evidence, the media and the intellectuals conclude that all West Virginians are stupid, the results of the recent primary election being a prime example of that.

The people of West Virginia did not vote for a convicted felon because they wanted him to be president. Their vote was simply a way to protest the direction of the Obama administration.

I am certain that the overwhelming majority of those who cast their anti-Obama vote had no idea that the man they voted for was a convicted felon.

But the intellectual elite jumped on that with both feet and let the world know that everyone down here in the hills wanted a criminal for president.

Write a novel about a West Virginian who grew up in a two parent family where the father worked outside the home for a living and supplemented his income on a family farm, no matter how interesting the story, and it won't find a publisher.

If you write about a family who had nothing to do with coal mines and attended a church where everyone acted civilized, the publishing houses won't give it a second look. Write any kind of a story that portrays a West Virginian as a normal, hard-working, God fearing human being and it will get nowhere.

The truth is the intellectual elite have already made up their minds about West Virginia.

In their minds everyone who lives here in the hills is totally ignorant and lives a very wretched life.

As the recent survey recently published widely in the news media pointed out, West Virginians are the most unhappy people in the country.

I am certain that my novel of 1994 (Doodle Bug Doodle Bug Your House is on Fire) which portrayed a hard-working, church going population who had absolutely nothing to do with coal mining, serpent handling, moonshining, or drug using was the laughing stock of publishers row up in Manhattan.

I self-published the novel and it found an audience.

The first edition sold out in nine months. It went into a second printing and it still sells today, some eighteen years after it was published.

I have had many readers tell me that they appreciated the story because it portrayed our people in a positive light, even though the main character, Corley Malone, was something less than a saint.