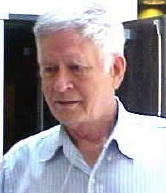 By Jack Cawthon
bbqrun@hotmail.com

I was born in West Virginia and had lived there all my life until I moved to Morgantown several years ago. As I once won a Golden Horseshoe for my knowledge of West Virginia history, I feel qualified to offer judgments on matters that pertain to the state and its people.

Of course, when I won for my vast knowledge of state history there wasn't as much history as there is today. No governor had yet served prison time and several had even been Republicans. Ah, those good old days!

West Virginia has received much national attention lately, having been considered the most unhappy state in the nation and, also, for our unhealthy lifestyle.

If we aren't happy and may be a little off in our diets, I guess that shoots down the theory that fat people are happiest, as we are presented with that major issue that weighs us down. I can take the criticism, with some degree of sobbing, with the thought that I may have contributed to the statistics with my choice of moon pies for breakfast and a certain allure for Whoppers, but when it comes to criticizing our recent vote for a candidate serving prison time, I take serious offense.

West Virginians saw enough background experience in Mr. Judd's prison time to make him a viable candidate, even beating Obama in some counties and coming in with 40 percent of the totals in the state's Democratic presidential primary.

I'll admit I was caught a little off guard with the excellent qualifications of the federal inmate, even supposing that he was related to the singing and acting Judd family, until I talked with political pundits in Big Puf, which has had considerable experience in judging convicts.

For example, Bobby Gene Bubba, who has served the district for 14 terms in the state legislature, and who will continue to be elected, I'm certain, as long as his health and happiness hold out, gave me a quick lesson in state politics.

He set me straight as to why West Virginians would vote for a convicted felon. The number one reason he cited is that the candidate for office would have already had experience in serving time in prison. You see, he added, it would be in reverse to our usual procedure of an elected official serving first in office and then going to prison. The man would have all that behind him and over with.

Another favorable trait of a convicted felon is that he would have found religion. Most, before sentencing, find salvation, are born again, and often carry a Bible into the courtroom and ignore damning testimony of witnesses as they appear absorbed in the Scriptures. They may even ask the judge to pray with them. Bobby Gene says such a candidate would be ideal for the Religious Right vote.

And lastly, Bobby Gene adds the clincher: if the prisoner has served enough hard time, he will come out dedicated to same-sex marriage, an issue that is sweeping the country as it once did with the Romans.

I mentioned to Bobby Gene that Latin seemed to wane for some reason, but he reminded me that doctors and lawyers still speak it, and they often intermarry with little harm to society, except for double billing. I could begin to see the error of my thinking: What the heck! Why not let the common folks do what feels good!

Come to think of it, I seem to recall Voy Dire, Big Puf's legal expert, speaking Latin, as he often spoke of cases, not legal ones, but the ones he had been drinking, as he appeared before the bar at the Over Easy Inn. Again, it may have been slurred English, but Bobby Gene had convinced me.

As I said in the beginning, I could never win a Golden Horseshoe today with all the changes and revisions in history. But, I'm pretty convinced I could support a well-established prison inmate for office after hearing Bobby Gene's reasoning, although I'm a little hesitant voting for rapists and murderers. But I guess it wouldn't hurt to get their opinions on gun control, or to see a birth certificate.