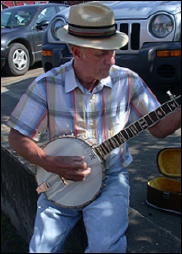 By Mack Samples
www.macksamples.com

The figures being distributed by the census bureau after the 2010 census are not encouraging for those of us who live in the rural areas. According to the numbers that the bureaucrats are crunching, a full eighty percent of Americans consider themselves Urbanites. That figure probably does not surprise or alarm most Americans, but some of us view it with great concern. What it means is, in the final analysis, rural Americans are going to have little or nothing to say about the issues that will govern them.

The agricultural people in America are already being suffocated by the sprawling bureaucratic agencies which are located inside the Washington beltway. It is very obvious to me that the folks in those bureaucracies do not have a clue about what is really going on in the rural areas.

All they see is information on papers that are being produced by like-minded bureaucrats. Inane researchers flood the bureaucrats with disturbing facts such as farmers are among the worst carbon producers on the planet.

Their conclusion is that farmers, especially small farmers, must be put out of business. Of course, none of them ever give a thought to what we are going to eat, nor the fact that food and meat raised by the small farmers is the healthiest available.

Some of these great minds have even concluded that raw milk is poison and must never be consumed by human beings. Laboratories might indeed draw such a conclusion in good faith, never once giving thought to the fact that raw milk has been consumed for a few thousand years without any sudden mass deaths.

They have not looked into the history of my grandparents who lived on the stuff all of their lives. All four of them made it into their late 80s and early 90s and still did not die of toxic poisoning.

I don't know if you remember or not, but not too long ago some of those government researchers concluded that eggs were not good for you. Soon afterwards, another group of researchers concluded that they were good for you!

Some researchers also flood politicians with information that concludes beyond all doubt that if the government would only take guns away from everyone except the military and the police, people would stop killing one another. They totally ignore the fact that people get killed by strangulation, stabbings, and a variety of blunt instruments.

Have they forgotten what Shane said in the classic western: A gun is just a tool. It's as good or as bad as the person who uses it! But the alarming thing about all of this is that those who live in rural American, folks with a little bit of common sense, are fast losing their voice in government. We are going to be governed by the urban majorities. We will have no more say in what governs us than the black folks did back before the Civil Rights Act.

Unfortunately, it appears that those citizens who dwell in an urban environment for any length of time lose touch with reality. They tend to believe everything the "intellectual" researchers produce. And most scary of all, they will vote for those who accept the conclusions drawn by biased researchers as gospel.

If you think all of this logic is just the product of a shallow minded West Virginia holler dweller, just talk to some of the folks from the western coastal states. They will all tell you that they have lost their voices in their state governments because the votes from the huge urban areas on the coast overwhelm them.

Or, look at the returns from the 2008 presidential election. The rural areas voted almost overwhelmingly Republican, but to no avail. I don't think for one moment that all of those rural voters were life-long Republicans. They are probably just good old-line Americans who fear that their lifestyles are being taken away from them. Rightly or wrongly, they blame the liberal Democrats.

I doubt that the liberal Democrats are the only demons. I tend to think that the products of our great universities who have been mis-educated for the past fifty years have gotten control of the great bureaucratic agencies and spend their lives producing misinformation.

The real demons are the folks who believe all of that misinformation that is spewing out of the beltway. Most rural folks know better than to believe it. I am not sure about those urbanites who make up eighty percent of the population (according to those bureaucratic figures).

Perhaps it's time for the rural minority to adopt the same strategy as the folks in Whoville, that fictitious community created by Dr. Seuss. Maybe we all need to start shouting: We are here! We are here! We are here!