RACES, HITCHES AND SQUABBLES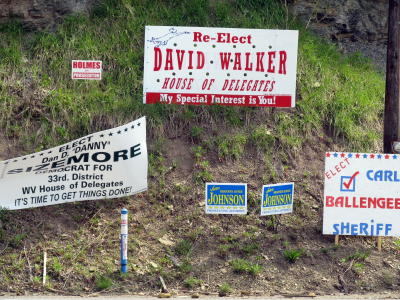 Opinion/Comment: Bob Weaver
Since the Herald has been in existence, during each political season, we have taken the liberty to write at least one column about county politics and politicians, for better or worse.
The cliché, "All is fair in love, war, and politics" implies that people suspend the rules for such circumstances, with passion becoming the overwhelming factor.
In our rural county, public engagement in organized political activities has been minimal, few come out to work or campaign within a party structure.
Absent is a healthy two-party system upon which constitutional government is based, many folks seem content to relax on their couch to be entertained by 24/7 TV political "news" with fewer and fewer coming out to vote.
Elections seem to moving toward a spectator sport.
That "news" in national and state-wide elections appears to have been bought by big money, particularly after the US Supreme Court "Citizens United" decision, giving corporations first amendment rights to spend endless sums supporting their vested interests.
Races in most West Virginia counties are thankfully still populist and grass roots, excluding the behavior in some southern counties.
The late "Wide Glide" Sirk, one of Clay County's most notorious politicos would make his rounds before each election, advising his friends and enemies, "Don't believe a damn thing I say between now and election."
So, if you want to view my comments with his admonition, that's fine.
"Wide Glide," a huge man, long-supported Clay politicians who were generally crooked, and was asked why he supported such people, would reply, "He's a dumb-ass, but he's our dumb-ass."
So far, this election cycle there have been a few guffaws like a previous election cycle, when the most notable was the removal of Assessor Jason Nettles nameplate from his office desk by aspiring politico Jim Morris, who then placed it on the back of an office commode, then flushing it.
During that impressive display, office workers said Morris mumbled something to the effect of "That's where Nettles belongs."
Morris reportedly said it never happened.
Morris-Stemple (Bill) appears to be the last of the county's political factions, and is still running candidates, even though they've had little success since the late 1990s.
This year Stemple himself is running for sheriff again, having been defeated by Allen Parsons the last time, and long-time Morris associate Angie Hersman is running for assessor against Nettles.
Hersman's biggest obstacle is likely overcoming that association.
Jim Morris, this cycle, told a number of individuals present in the courthouse, including Nettles himself, he would likely use a new strategy this election to assist Hersman in her race for assessor.
He said he was thinking about securing a full-page ad in his family newspaper supporting Nettles for assessor, since he had been poison to earlier candidates he supported.
Morris has followed his reverse psychology plan by sporting a ball cap bearing Nettles slogan.
Stemple, who was in the House of Delegates for several terms while working for Morris, supported sheriff candidate Jeff Smith in a previous cycle, taking him around the county to help his election. Smith was defeated by Carl Ballengee.
Now, Stemple is running against Chief Deputy Ballengee.
Stemples, as a WV delegate, failed to come to a single meeting of the Calhoun Commission in 13 years, current delegate Walker has been to numerous meetings during his two-year tenure.
Nor did he [Stemple] bother during most of his legislature terms report back to the citizens through a newspaper column his legislative decisions, an action taken by virtually every delegate or state senator in West Virginia.
It could be overkill to write about more critical issues related to Stemples' political history. I might get carried away. He is, however, a good one-on-one convincer.
Jim Morris' father, the late Carl Morris, as we have previously written, was a consummate politician and knew how to play the game.
Though soft-spoken, he could become vicious at times using name calling, according to the Calhoun Chronicle archives.
While Meet the Candidate dinners rarely produce fascinating information, the Democrats recently held an event at Arnoldsburg, did. Candidates were asked to speak five minutes regarding their platform.
School board incumbent Cynthia Dale spoke about 15 minutes from a prepared speech regarding her qualifications as a board member, citing the positive accomplishments of the board working well together, but barely alluding to the status of Calhoun Middle-High School being the worst performing school in West Virginia.
School board candidate Larry Harris appeared annoyed at her lengthy comments, which also focused on students not being motivated to take achievement tests.
Dale has been appropriately critical of the No Child Left Behind system, but nonetheless, Calhoun is at rock bottom.
Harris, a retired teacher, in a two minute speech said it was inappropriate to blame the students, indicating a sharp decline in outcomes in recent years after students had done well academically.
"Blaming kids is not the answer," saying "We have the greatest kids," their ability to learn is just as high as the kids in our neighboring rural counties who have better performance ratings.
"I have always been impressed by Calhoun students, and blaming them has the same feel as a coach blaming his players for losing the game," he said.
He cited the state audit, which said the (Calhoun) structure has led to internal issues that "overshadow the teaching and learning process."
"Surely the problem lies within," he said.
Upset, Ms. Dale took exception to Harris' comments and wanted to ask him questions, a request that was denied because it was not part of the format.
In the off-the-wall department: Seeking re-election Prosecutor Rocky Holmes is facing Calhoun native Shannon Jones Johnson. He seems to have gotten off-track a little by accusing a county commissioner of paying $11 to file an internal memo sent to him by the commission regarding his performance problems and filing it in a county record book.
While nothing such happened, Holmes indicated the filing of the memo in a public record book was done to politically attack him, although he did circulate the memo around for folks to see.
Holmes displaced his anger over the memo on the poor work ethics of county commissioners, saying he is among the last of the state's part-time prosecutors, apparently upset over his paycheck (which is likely underpayment for the important work), and writing in a memo to commissioners that, "You can't have your cake and eat it too."
In lawyerly fashion, he has alluded to bringing lawsuits against the county.
During the flourish of discontent, Holmes ask that the Calhoun Commission be investigated by the WV State Police for failing to publish the county's annual budget in a timely matter.
County Clerk Mike Ritchie, not blaming or making excuses, assumed full responsibility for the problem while learning the duties of his office. The document did get published. Even Wood County failed to publish the document in a timely matter.
Holmes, who most consider to be a nice guy, has been the object of discontent in Circuit Court, with accusations regarding his performance, not only from defense lawyers (which is customary), but from the court itself.
As a politician myself, I found it difficult to issue any negative statements about individuals who ran against me, including Bill Jarvis and Kathreen Wood.
As to my own shortcomings as a county commissioner, I do have a pretty good list, but no "thinking" politician would publish them, but then I just might.
There should be real concern about who gets elected, their skill level and ability to perform the job.
In small, rural counties with a small tax base, elected officials must be up to snuff to perform duties which have dramatically increased in recent years, being unable to afford to hire a large staff.
Gone are the days when the official could sit on the courthouse bench, have a rub and a cigarette and campaign between elections.
There is an up side to this diatribe.
It is simply that most people I have known as elected officials are decent folks and most take their job seriously.
Compared to elections past, consider:
A NASTY ELECTION YEAR - Consider Fists, Rocks And Clubs In Sunny Cal