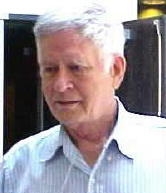 By Jack Cawthon
bbqrun@hotmail.com

I have been afraid it might happen as foretold, but not so soon! When I turned on the computer and visited the Morgantown Dominion-Post newspaper site and saw the headline "Poles to be Moved" I just knew the paper had the scoop of its life, but quite possible a short life for it and for all of us as the paper seemed to be announcing early the Big One which was not due until Dec. 21 of this year. Maybe we were all going to die early?

In case you have missed it and haven't started preparations yet, a bunch of Indians in Central America hundreds of years ago came up with a calendar of sorts, but they ended it for some reason at December 21, 2012. Then, they all disappeared into the jungle, or as might have happened, a giant alien spacecraft came down and sucked them up, which isn't so far-fetched as you might think if you watch the TV shows that I do. (If it's on TV it has to be true, right?)

Or another theory that I have: if they could see into the future so well, maybe they saw the political mess surrounding us in 2012 and figured it just wasn't worth seeing anything except bleakness on up the road.

Anyway, one of the theories of how the world will end or at least be shook up for a spell is that the north and south poles will reverse, sort of like slamming on the brakes doing thousands of miles an hour, and we will all going spilling out into space, saying so long to the electronics revolution and all the comforts of home.

(I hope you will pardon my less than technical explanation of the world ending, but I sought journalism so that I wouldn't have to be burdened with heavy learning and it certainly helped because I never had to worry too much about hard facts when I wrote a story.)

But to relieve your mind, because I know I might have upset you if you hadn't counted on the world ending soon and just now finding out through my investigative reporting, which I trust you have come to rely upon, the Dominion-Post wasn't announcing the earth's poles reversing, but that some utility poles were to be relocated.

The fortunate part for me, other than knowing that I had another nine months or so before the inevitable, was that I didn't spend money to read the story. Of course headline writers hope that one will by clever headings which often lead into boring stories. (I told you I once hung around journalism.)

The Dominion-Post allows one to read some headlines and a short sentence or so on the computer screen and then if you want the rest of the story, baby, shell out some money either for the online edition or go the old-fashioned way of paying for print copy.

Until a few weeks ago the toll was 50 cents daily, but Mr. Raese announced for public office--again--and the price went up to 75 cents, which may have been coincidental, but elections cost money even for those with inherited wealth.

But being frugal as I am--all right, cheap, if you must--I have learned to avoid shelling our hard cash to read the news. By the way, you get that free right here in the Herald if you don't feel guilty by not contributing a little something each year to keep it going. Where else can you read quality stuff like this and not pay for it? But I digress.

Unlike, say, the Charleston Gazette which opens up all its pages online for free reading, including ads which I assume pay the bill, the Dominion-Post gives only "teaser lines," as we say in journalism, or maybe I have it confused with another profession from hearsay, of course. Even the obituaries are presented with the name only and if I want to see more to determine grief or whether the person deserved to die, you guessed it.

But as with all survival techniques, except figuring out how to survive the ending of the world, I have learned how to avoid paying for what I consider I should get free. If a major story grabs my attention I have found that I can read most of what is above the front page fold by peering through the window of the dispenser located in various spots around town. This, of course, provides limited range of reading of the upper part of the paper only, but, hey, we're talking money here.

Not long ago, I was exercising my right to read at the dispenser when a little old lady came by; I think it was outside the post office. I hadn't shaved for a while and was wearing my mountain garb with muddy boots, and perhaps mistaking me for one of Morgantown's transients--not the ones who are here for the "job challenges" before moving on to a better "challenge" but one from under the Westover Bridge--she handed me three quarters and told me to obtain my own copy as she was so happy to see literary efforts made by the poor. She added a reminder not to spend my money on drink.

I didn't feel too guilty as I at once headed for a drink: an old folks' discounted coffee at Mickey Dee where I was able to read the newspaper free that came with the table.

In my planning for the world's ending, I am spending most of my time in Big Puf as something as the world ending doesn't faze those good people in the least. Most of them have seen their worlds ending in various fashions many times and what's a little jolt from the poles shifting on top of it all? As Okey Hanshaw, resident philosopher at the Over Easy Inn sees it, the polls have shifted for Romney several times and he stays the course. What worse could happen?