By Bob Weaver

Southern Calhoun County residents should double-take their tax tickets this year. Each acre is being valued at $5 for unmineable coal that lies two to nine hundred feet under their property, according to Assessor Jason Nettles. Washington District resident Loren Howley asked for a clarification from the West Virginia Tax Department at a review and equalization meeting of the Calhoun Commission last Thursday.

Nettles agreed with Ms. Howley it was a far stretch to tax the coal, which is considered unmineable by today's standards. Coal researchers say the depth of the coal and the nature of the seams makes it impractical, although estimates in the early part of 1900 indicate there is 300 million tons of Bakersfield coal and 100 million tons of Pittsburgh coal under southern Calhoun.

Ms. Howley, speaking as a taxpayer, said the law of taxation was originally based on market value. "This coal has no market value," she told the Chief Geologist for Mines and Minerals with the State Tax Department, who attended the meeting. "It is absolutely unfair to tax these deposits. How can the legislature make you pay a tax on something that is of no value to you?" she asked.

The geologist produced a map which allegedly shows the deep deposits, but could not validate its science in defining the location of seams under specific parcels. He said the taxation law passed by the legislature exceeds the rule of taxing "true value if it were to be sold." The Charleston Gazette reported holders of unmineable coal in Kanawha and other counties have been taxed at a higher rate than coal companies with mineable coal.

Howley asked the geologist "How do you know the coal is a continuous seam?" He continued to refer to early 1900 maps.

Beyond the "bad geology study" problem, the seams do not qualify for mineable coal unless "beyond extreme" mountain top removal would be used to extract it.

"This unreasonable tax violates the confidence the public has in government to tax," Howley said. Few other Washington District residents have complained.

The taxation of oil, gas, coal or other minerals has essentially been taken over by the State of West Virginia, according to Assessor Nettles. "There is little room to take care of the problem locally," he said.
Pittsburgh coal under southern Washington District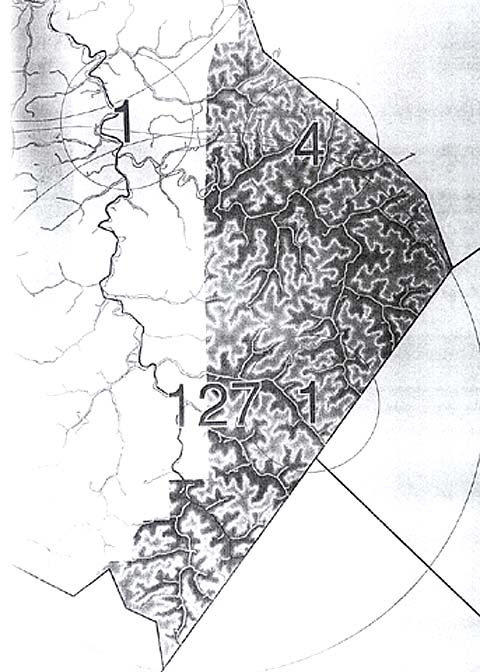 Bakersfield coal under southern Washington District