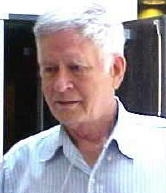 By Jack Cawthon
bbqrun@hotmail.com

I began to cry when I heard the news that West Virginia had been declared the unhappiest state in the nation. The Little Woman (5 ft., 2 ins.) walked in and asked why I was crying again--I usually go through two or three crying jags a day--and when I told her she began to wail.

We weren't crying because of sadness this time, but joy. West Virginia had finally won first place for a change in something and wasn't down there at the bottom with losers such as Mississippi and Louisiana.

I don't know how the happiness survey was conducted or when. I might assume that if it was made while the legislature was in session there is little doubt in my mind how we achieved the trophy.

Every time that august body meets in January we all should hold our breaths until turning blue, the color of misery, as we can be sure some crazy proposals, with the law of averages and politics, will become laws.

By all rights the Little Woman (5 ft.,2 ins.) and I shouldn't be unhappy as we live in Morgantown which some might consider Pennsylvania South.

However, my unhappiness may be caused by inheritance from my natural citizenship of Gilmer County, where I was always considered a sad product.

To add to local happiness the state's largest mental institution is situated here. Some people who take my definition the wrong way assume that this is a place of confinement where diseases of the mind are treated.

You are welcome to draw your own conclusions based on my writings, but in contrast to the usual concept of a mental institution this one has winning athletic teams, or better have, or the coaches will be examined for their mental deficiencies elsewhere.

The usual make up of the institution consists of those called "students." And here the term mental institution fits because these young people are attending to have their minds altered, with the hope of educational growth.

However, some fail after four years and continue to walk in the middle of the roadways with on-coming traffic, some party, and some are not yet potty trained and do unspeakable acts on buildings and streets, with the men equally guilty.

I was confined in the institution for more than 20 years where I was in an enrichment program--I got paid--as an "editor," and it was my therapy program to turn "research" writings into suitable reading matter, which was sometimes difficult to do when the subject matter was so often dealing with animal wastes. My specialty was in chickens.

As a result, I was sometimes referred to as the "chicken excrement editor," this being an institution of higher education-speaking individuals, except when my work wasn't fully appreciated and I was called rather crudely what many writers often call editors.

After all the therapy I experienced I should have developed an attitude of happiness as, after all, I was allowed to cut and paste, not with the likes of a devilish computer today, but with real scissors, blunt-pointed, of course, and a glue pot from which I often sneaked a whiff to further jolts of creativity.

As a result of the state institution here we have highly educated attendants who have accepted their positions through "challenge," never with the sordid thought of "money," as they always cite as their reason for leaving a better "challenge" down the road, never, never more money.

These same progressive people have complained recently about property assessments, not because they are high, but because they aren't high enough. (I told you they are progressive!) They insist the old assessor hasn't been charging us enough in taxes. Even the local newspaper editor joined the crusade, writing an editorial as to why we should not reelect him because he wasn't requiring us to pay more in taxes. I chose the pursuit of journalism years ago--but never caught it--because I wanted to write such lucid compelling editorials, but chose this method because it didn't tax me so much.

The old assessor has now thrown up his hands and has had enough. (He never even said he was seeking a better challenge.) I'm sure the new one will do his duty properly to property. Those progressives who championed the cause so successfully will, however, seek a better challenge some place else, perhaps where property taxes aren't so excessive.

Those of us left behind, much like the Biblical ones, will benefit by their efforts in our behalf.

But, happiness is near at hand if only one can stop and smell the roses, quite welcome in my case after years of dealing with the subject matter of my confinement.

In addition to their kids and money we receive abundance from natives throughout the state who converge on Morgantown for the fall jock rites. People on welfare have been known to hock food stamps, some take out home equity loans and bust the kids' piggy banks, and a few see Joe on the corner for a low interest loan just to become part of the festive crowd.

With all this you would think we would have more than our share of happiness. But there is more. We have environmentalists hoping to save us by banning coal mining, fracking for gas, and having our solid wastes hauled by truck many miles to Bridgeport as builders happily grade out trees and grass and other wonders of nature just to build modern housing with all the conveniences for many of those same dedicated saviors of the earth.

All in all, why shouldn't I be happy in the miserable throes of old age, a chronic condition that often proves fatal, living surrounded by the bliss of happiness? I can only assume that with the rest of the state suffering misery I am happily not crying alone.

Continue to send us money-- but keep your kids at home for a better institution up here--and we will happily spend it and make future surveys more biased towards the blissful.

Yes, yes continue to send us money, I cry fitfully.