Article submitted by Sue Cosgrove
Photos by Bev Mullins

Day Two of the Calhoun County Youth Softball Tournament dawned a bit cooler on Sunday, June 2, but the action was hot in both games at Calhoun County Park. Arnoldsburg and Grantsville locked horns in the first game of the day, with Grantsville finally taking the win. In the second and final game of the day, Grantsville and West Fork went head to head in the fast-paced game, with West Fork emerging victorious in a 8-0 shutout. This game's win brings West Fork's undefeated season record to 8-0, straight on the heels of last year's undefeated 8-0 record. For the second straight year, West Fork becomes the Calhoun County Youth Softball Champions.

Dana Thomas and Cassie Mullins were named Most Valuable Players for the championship tourney.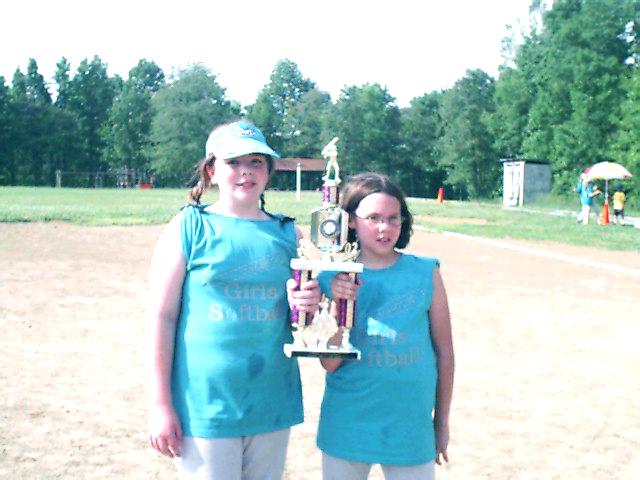 Dana and Cassie
The daughter of Earlene and Charles Thomas of Chloe, Dana plays outfield, catcher and pitcher. She is a very good young player and a slugger. Dana hit 3 for 4 in Sunday's game, hitting a game-winning two run triple.
Also from Chloe, Cassie is the daughter of Bill and Bev Mullins and has been West Fork's ace pitcher. In the tournament, Cassie pitched 12 innings with 23 strikeouts, and batted 4 for 6 with a double in Saturday's game. In top form for Sunday's game, she pitched an 8-0 shutout. During the 2002 season, Cassie pitched 46 innings, racking up 84 strikeouts and 8 wins. She gives credit to practice, hard work, practice, pitching coach Tracy Rosiek, and practice for her successful season.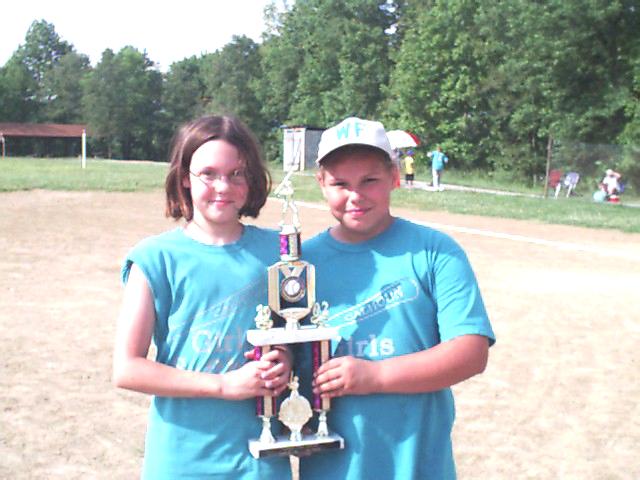 Dana and Shelia
MVP's for Sunday's championship game were Dana Thomas daughter of Charles and Earlene Thomas of Chloe, Dana played inspired and was a team leader this last game. She played a whale of a game and never quits, or complains.
Sheila Tawney daughter of Rocky and Tammy Tawney of Chloe, played a great game and has a great eye for the ball, she got some key walks and is a team player all the way. She plays outfield and third base, she is very coachable and will make a team leader next year.
Congratulations to the MVP's and all West Fork Team members for their hard work and successful season.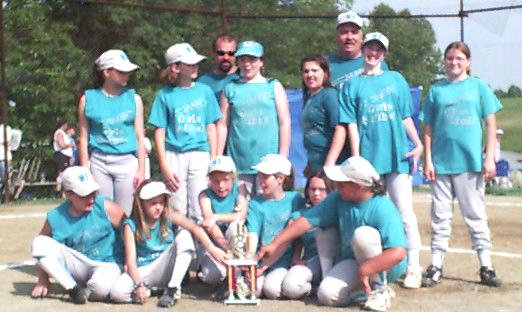 West Fork Youth Softball Champs