Submitted by Sue Cosgrove
Photo by Bev Mullins

Saturday, June 1, loomed hot and humid for the first day of the double elimination Calhoun County Youth Softball Tournament. All three teams showed excellent form, despite the uncomfortable weather.

Arnoldsburg won the first game of the tourney against Grantsville, and went up against West Fork for the second game of the day. Despite a two-run lead by Arnoldsburg early in the game, West Fork prevailed with a final score of 8-2.

West Fork's Most Valuable Players for their first tournament game were Jessica Cosgrove and Emily Thomas.

The daughter of Sue and Dan Cosgrove of Chloe, Jessica plays outfield and is the team's pitcher-in-waiting. In addition to being very coachable, she practices at home, stays alert during the games, and is ready and willing to do whatever she's asked. She is the best young pitcher in the league and promises to be next year's star. Give a coach ten kids like her and you'll see one happy coach.

The daughter of Earlene and Charles Thomas of Chloe, Emily Thomas plays outfield and second base. A very good batter with an eye for the ball, she is one of West Fork's best hitters and always hustles. Mature beyond her years, Emily will be an all-star player and pitchers had better beware.

This first tournament game brings West Fork's 2002 record to 7-0.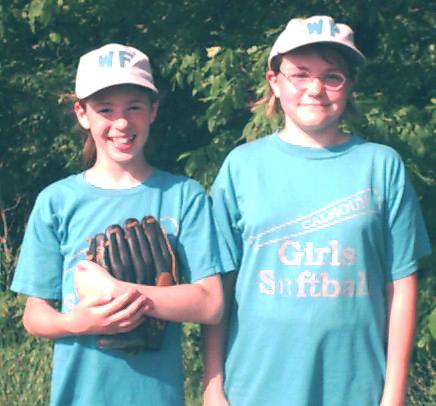 Jessica Cosgrove and Emily Thomas