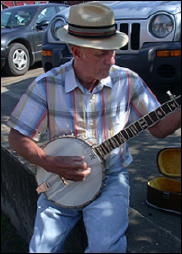 By Mack Samples
www.macksamples.com

On Wednesday morning, October 5, 2011 my wife and I rode over to the Hill James Farm on the left Fork of Steer (in the western end of Gilmer County), for Hill's annual molasses making. The process was already underway when we arrived.

The cane was being squeezed and some of the juice was already boiling. Twenty-five or thirty people were on hand to lend assistance. Hill runs a first class operation and even provides an outside running water bathroom with all of the facilities, and ample supply of coffee.

We spent a very enjoyable day watching the process and visiting with some old friends from our Gilmer County days. But the most interesting thing to me about the entire day was the conversations that went on around the boiling pan as everyone enjoyed an absolutely beautiful autumn day.

Out on the other side of the Ohio River and out across America at this particular time (at least according to the news media) everyone was talking about whether or not Amanda Knox was guilty of the murder she was accused of committing in Italy. Yet I heard not a word about that entire affair as I enjoyed my coffee and listened to the talk.

Just about everywhere I go in West Virginia during the fall everyone is talking about WVU football. Yet around the molasses pan I heard nary a word about any kind of football, even though the group was predominately male. West Virginia had conducted a special election for governor the day before, but that subject never once came up for discussion.

I did not hear a single word about Obama Care, balancing the federal budget, or whether or not we should be fighting a war in Iraq, Afghanistan, or anywhere else in the Middle East. No one seemed to be the least bit interested in statehood for the Palestinians.

So if none of the above was talked about around the molasses pan, what in the world were they all talking about?

Well, I heard lots of conversation about how wet the summer had been and how difficult it was to get the hay up. Hill James and I had a very interesting talk about how our potatoes turned out and I confessed that I still had two more rows to dig. There was lots of food talk among the ladies.

A statement by one of the group that "there ain't many acorns this year" prompted several comments. Someone noted that there were several beechnuts and hickory nuts, and in some spots there was a good crop of black walnuts.

These comments, of course, led to stories of squirrel hunting in the old days. Just about everyone agreed that squirrel hunting has declined in popularity. We could all remember when the opening of squirrel season was a major happening.

Of course, there was much talk about the havoc wrought by deer. Most folks have fenced them out of the garden but they are still a problem around the house. One lady commented that they came up on her porch and ate her flowers. I noticed that Hill had a major electric fence around his cane patch.

Possibly because I was present, there were some words spoken about old time music and dance. Of course, in central West Virginia, if there are more than twenty people gathered together, there are always some musicians in the group.

Don Bailey, who was steering the molasses through the sections of the pan and doing most of the skimming is a well known Gospel singer in Gilmer County.

As we drove home via of Perkins, Rosedale, and Frametown with my coveted quart of molasses, my wife and I discussed how absolutely refreshing it is, and how lucky we are to be among good people who still have their values straight.

There are still a few of us who do not let the never ending stream of information that the news media bathes us in each day influence our thoughts and lifestyles.