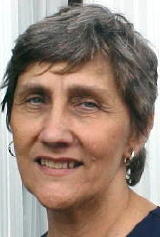 By Ann Richards Francis
arichards.francis@gmail.com.com

Someone asked if my pencil was broken. Why had I not written anything for the Hur Herald lately?

There are several reasons, but, as I said to my inquirer, "It's Harold's fault".

I'm too busy.

It is non-stop on the go.

I had no idea life with a preacher is such a grind. Regular services on Wednesday and Sunday. Many unexpected calls for weddings and funerals. And all the up-keep of clothes for these events.

Besides that Bible School, revivals, baptisms, services for long term care, helping other pastors with their churches, other church meetings, like women's meetings and men's meetings, breakfast included.

Harold says that Baptists "meet and eat". Since he is a Methodist, I wonder how he learned about Baptist people having many excuses to meet and eat (belly stretchings, I call them).

That's another thing. I have gained weight like crazy. Everybody wants to feed us.

It is getting hard to climb the stairs. It is getting hard to take a walk. It is getting hard to get any work done. You see, we don't have time to get any work done with all the meeting and eating. When we get home we are TOO TIRED!

This is an endless cycle.

This makes me consider whether or not THIS is the real ministry. Is all THIS what the Lord said to do?

Recently I had occasion to have my blood pressure taken by a medical person. It was too high.

"This calls for a major life style change", I said.

There is no excuse. The only thing we have to do is STOP EATING!

Well, we are working at it. First, we cut out so much salt and sugar.

We discovered the workout room at the Senior Center in Grantsville.

We walked around the old football field walking trail - once.

We felt better. This wasn't so hard to do. We thought.

Then the phone started ringing, as it does and we have been going and going and meeting and meeting and eating and eating.

That has been over a week ago and now we don't want to do it because it takes so much discipline.

Oh! Woe is us! What are going to do?

We had a garden and that was work. But, we have a bounty to show for it. We preserved the food with no salt.

The critters stayed away from the garden except for the bugs, due to an electric fence.

But when we dug the sweet potatoes, they had been mostly devoured by something.

What? We wondered. Until we heard, Squeak, squeak...and there were the devourers in the ground. Mice.

Those critters didn't last long. It wasn't a rifle. It was the backside of a shovel.

We did have a few sweet potatoes. Precious few, considering the beautiful sweet potato patch we looked at all summer.

We love it here on the Old Francis Farm. It is a wonderful, beautiful place to rest when we come home from all the going. No traffic. Just the wild things making conversation in their worlds, the dogs occasionally barking at nothing. Imagining they are protecting the place.

Got to get off here and maybe take a much needed walk, here where the heart is.