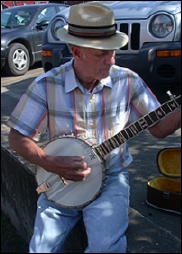 By Mack Samples
www.macksamples.com

Thomas Jefferson said in one of his little known essays that it would be ideal if everyone had five square miles to live on. He speculated that if that were the case there would be much less human conflict. He was probably right about that, but five square miles for each family might be considered overkill.

Yet when people live within close proximity, conflict of one kind or another is nearly inevitable. This is especially true for folks who live in the country. In the cities where people live within ten feet of one another, or in the next apartment, they usually do not know one another, never speak, and generally mind their own business. But country folks are generally friendly, get to know one another, and many times find things upon which they disagree. It might be something as small as the placement of a tree in a yard, digging a ditch near the property line, or an intruding dog. One of the primary solutions to avoiding some of these conflicts is a fence. Fences have been around for a long time.

Ben Franklin in his ever-famous Poor Richard's Almanac made the remark: "Love your neighbor, but don't pull down your hedge." Robert Frost modified the line a bit in his poem Mending Walls. He used the phrase, "Good Fences Make Good Neighbors."

Yet a close reading of that poem indicates that Frost may not have agreed with the line. It is his neighbor who repeats the phrase (twice) as they are mending the wall that separates their property. But the fact that Frost is helping to mend it indicates that he does believe that there is some merit in keeping the wall in tact.

Fences do indeed often serve a good purpose. It is always a good idea to build a fence on the property line because that eliminates all doubt about where it is. And, of course, always make sure your neighbor is in agreement about the whereabouts of the line before you start setting posts.

If you live pretty close to your neighbor, a good privacy fence might also be in order. If you and your neighbor are not aware of what each other is doing all of the time you might have fewer things to complain about. I had a sales person at Lowe's tell me last summer that privacy fence is a hot seller and they sometimes can't keep it in stock. I see a lot of it as I drive West Virginia's highways and byways.

I suppose that barbed-wire fences are far and away the most dominant type of fence here in the mountain state. We generally think of those fences as serving the purpose of keeping the livestock from straying off the property. But an elderly West Virginia woman once told me that, "it not only kept the cattle in but it also kept her (can't repeat the name) neighbor) out."

Of course, out in the old west, fences sometimes caused more problems than they solved. Sometimes ranchers cut or tore down fences if they did not agree with where they were placed.

I kind of always liked the way they handled it in the old western movies. They never said, "don't cut or cross this fence or I'll have you arrested." They put it very bluntly, "if you cross or cut this fence, I'll kill you."