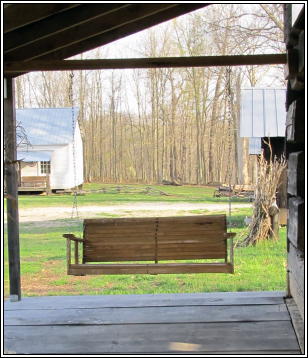 Rick Poling's Porch Stories
By Rick Poling
Executive Director
Calhoun County Committee on Aging
rpoling@cccoa-wv.org
Our United States Flag is much more than just a Flag; its history and evolution tells the story of the birth and growth of our Country and the spirit and pride it represents.
Our Country's first Flag utilized the same thirteen red and white stripes familiar to us today, but instead of stars in the upper-left corner, the British Union Jack was inserted.
Any reflection of our association with or fealty to England, however, disappeared when the Continental Congress passed the first Flag Act on June 14, 1777: "Resolved: That the Flag of the United States be made of thirteen stripes, alternate red and white; that the union [common term for the upper-left field of a flag] be thirteen stars, white in a blue field, representing a new Constellation."
The thirteen-star flag initially had several variations in the arrangement of the stars (most commonly seen in a circle), since the pattern of the stars was not prescribed by the Flag Act.
The arrangement of the stars in rows became more prominent, however, with the increasing realization that additional states would likely be periodically added, and the use of rows would facilitate adding stars better than circles or other then-common designs.
When Vermont and Kentucky became the first states to be added to the original United States, Congress on January 13, 1794, provided that the Flag should have fifteen stars and fifteen stripes, with a star AND a stripe for each state.
Such was the case for 23 years until the annexation of Indiana, Louisiana, Mississippi, Ohio and Tennessee in 1818 brought into question the preceding notion that each State should have both a star and a stripe.
President Monroe urged revision of that pattern, fearing that a Flag with a large number of stripes might look awkward rather than majestic. By Act of April 4, 1818, Congress and President Monroe decreed that the Flag would thereafter have thirteen stripes representing the original colonies, with a star for each state, with new stars being added on the 4th of July following the admission of each new state.
Since that time, our Flag has undergone no less than 24 revisions, with the blue star-field changing each time a State was added to the United States. Only in the last approximately one hundred years can the exact number of revisions be determined, since various "alternate" designs existed prior to June 24, 1912, when President Taft's Executive Order finally prescribed the proportion of the flag and the arrangement of the stars to be in rows with each bearing a single point upward.
Flags prior to 1912 sometimes displayed unusual arrangements of the stars or odd proportions of the stripes, all left to the discretion of the flag-maker or the commander of a military base or regiment.
On July 4, 1960, the fiftieth star was added to represent Hawaii (Alaska's star had been added one year earlier), and the past 51 years has been the longest period of time that our Flag has remained unchanged.
In fact, a sentiment resisting any further change to the Flag has emerged, and has actually been cited as a valid reason to deny granting Statehood to Puerto Rico and the District of Columbia!
As for the American spirit and pride our Flag represents, volumes could be written and still be inadequate in measure and description. Of all the varied attempts to capture the essence of the sentiments embodied by our Flag, my favorite is Johnny Cash's "Ragged Old Flag:"
I walked through a county courthouse square,
On a park bench, an old man was sitting there.
I said, "Your old courthouse is kinda run down."
He said, "Naw, it'll do for our little town."
I said, "Your old flagpole has leaned a little bit,
And that's a Ragged Old Flag you got hanging on it."
He said, "Have a seat," and I sat down.
"Is this the first time you've been to our little town?"
I said, "I think it is." He said, "I don't like to brag,
But we're kinda proud of that Ragged Old Flag."
"You see, we got a little hole in that flag there,
When Washington took it across the Delaware.
And it got powder-burned the night Francis Scott Key
Sat watching it writing, 'Oh Say Can You See.'
And it got a bad rip in New Orleans
With Packingham and Jackson tuggin' at its seams."
"And it almost fell at the Alamo
Beside the Texas flag, but she waved on though.
She got cut with a sword at Chancellorsville
And she got cut again at Shiloh Hill.
There was Robert E. Lee, Beauregard, and Bragg,
And the south wind blew hard on that Ragged Old Flag."
"On Flanders Field in World War I
She got a big hole from a Bertha gun.
She turned blood red in World War II;
She hung limp and low by the time it was through.
She was in Korea and Vietnam;
She went where she was sent by her Uncle Sam."
"She waved from our ships upon the briny foam,
And now they've about quit waving her back here at home.
In her own good land here she's been abused --
She's been burned, dishonored, denied, and refused."
"And the government for which she stands
Is scandalized throughout the land.
And she's getting threadbare and wearing thin,
But she's in good shape for the shape she's in.
'Cause she's been through the fire before
And I believe she can take a whole lot more."
"So we raise her up every morning, take her down every night.
We don't let her touch the ground and we fold her up right.
On second thought, I do like to brag,
'Cause I'm mighty proud of the Ragged Old Flag."
QUOTE OF THE MONTH: "We dare not forget that we are the heirs of that first revolution." ... John F. Kennedy