Submitted by Sue Cosgrove

After enduring weeks of enforced game postponements due to rain, the Calhoun County Youth Softball League staged a battle at Upper West Fork Park Monday night, May 20. With both teams hungry for the win, Henry's Team of Grantsville and West Fork squared off and worked hard, keeping the score tied through much of the game. West Fork prevailed with a final score of 17-15, bringing their season record to 4-0.

Congratulations to the two Most Valuable Players contributing to the win: Mia McAllister and Flo Parsons.

The daughter of Rocky and Tammy Tawney of Chloe, Mia's positive attitude makes her a pleasure to work with at all times. The shortstop's batting average is .484 and, "She has a vacuum sweeper for a glove," said Coach Bill Mullins.

A hard-hitting first baseman, Flo Parsons is the granddaughter of Jim and Kathy Parsons of Chloe with a .350 batting average. Never one to quit, Flo is very dependable, plays hard under any circumstances, and turned an exciting decisive double play in Monday night's game.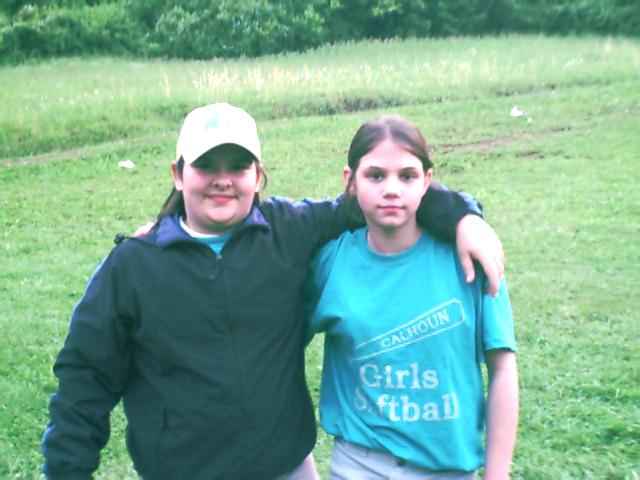 Flo Parsons (L) and Mia McCallister
Photo by Bev Mullins
The players ask that you support your local softball team and say "Thank You" to Henry Cooper for all of his dedicated work in support of the Calhoun County Youth Softball League.
The next softball game is scheduled for Thursday, May 23, Calhoun County Park at 6 p.m., Henry's Team against West Fork. Come on out!