RURAL FREE DELIVERY - Fiddle On The Bed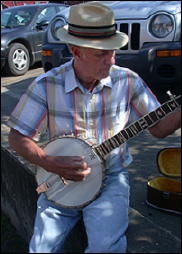 By Mack Samples 2011
www.macksamples.com

Much has been written about the Scotch-Irish by folks who are much brighter than I. Now-a-days this group of people is often referred to as "Scots" Irish but I suppose that is because some lexicographer somewhere had a vision that told him (or her) that everyone had been using the wrong term for a couple of centuries. You will find both terms in modern dictionaries.

At any rate, everyone agrees that the term is used to describe that group of people who for one reason or another migrated from Scotland over to Ulster Ireland during the 1600's, then for one reason or another migrated on to America soon thereafter. The term Scotch-Irish applies only to those who came over from Ireland during the Colonial period of the 1600's. These migrants were almost one hundred percent protestant. The term does not apply to those Irish who came later, in the 1800's and beyond, who were most generally native Irish and Catholic. Most of the early Scotch-Irish settlers ended up in the Appalachians and the Carolinas.

Volumes have been written by very bright scholars about the influence of the Scotch-Irish on American music. Everyone agrees that country and bluegrass music are the product of that flow of genes. Even Elvis Presley made claim to a Scotch-Irish heritage.

But little has been written about how widespread the natural talent of music permeated that particular culture of people.

It first occurred to me when I listened to the congregation singing in the old Methodist church I attended when I was growing up. While I have never researched the linage of those who attended the old church, there is little doubt in my mind that just about every one of them was Scotch-Irish. They were all the products of families who had settled the very area where the Scotch-Irish settlers planted roots in the early 1800's.

Most of the adults in that congregation had an eighth grade education and certainly had no formal training in music. Yet they sang some of the best four-part harmony you ever heard. No one had to teach them how. It just came natural to them.

Then, as I matured and began moving around the area more, I noticed that stringed musical instruments were found in almost every home I visited. And, they were not art objects. Somebody played them. Nary a one of the players ever had a formal lesson, or ever attended an "Appalachian Music Workshop." They might have picked up some pointers from friends and relatives, but they mostly just figured it out on their own. As my dad used to say, "It's just in'em." I personally know of people who could play the banjo almost as soon as they picked it up.

The tradition goes on and on. Old time and bluegrass bands in the central Appalachians are a dime a dozen, filled with good musicians who do not read music and who have had no formal lessons. My own band, The Samples Brothers, is always well aware of the fact that when we perform in West Virginia, half of the people in the audience play better than we do. Those old Scotch-Irish genes cannot be denied.

Another thing I remember about visiting the old homes in the hills where I grew up is that instruments were never kept in cases. Perhaps the owners could not afford a case, but more likely, they liked to keep them out where they were assessable and where everyone could see them.

Most of the old homes I used to visit did not have a hallway. The bedrooms were located off the living room. Sometimes there would even be a bed in the living room. The beds were always neatly made up each day, and more often than not, there would be a fiddle lying on it.