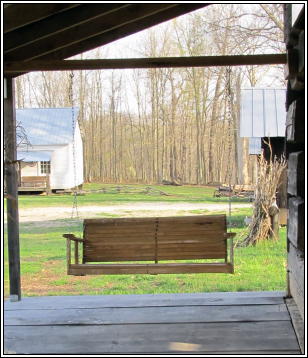 Rick Poling's Porch Stories
By Rick Poling
Executive Director
Calhoun County Committee on Aging
rpoling@cccoa-wv.org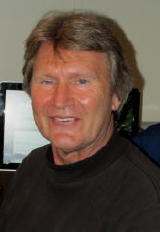 America began the month of May with news that Osama bin Laden had been killed by United States forces and buried at sea. America will end the month of May with the observance of Memorial Day. Perhaps the entire month should be Memorial Month.
The lengths to which we will go as a nation to promote and ensure freedom seem to be boundless and tireless. In our relatively short life as a nation (compared to most of the major countries and cultures on the world stage), we have made our primary focus crystal-clear: freedom. As we mature as a country and culture in our own right, challenges to that focus persistently come from all directions.
Internally, our entire system of justice boils down to one simple concept and endeavor: to strike the proper balance between the rights and freedoms of the individual vs. the rights and freedoms of society as a whole. Simple in concept; not so simple in execution, especially with the modern overlays of issues surrounding diversity and "political correctness."
Externally, America's original stance was to do whatever necessary to protect and preserve the sovereignty of the Nation and the freedoms of its citizens, and to leave the rest of the world to its own regional self-determination. In recent decades, that stance has shifted outward, and we've expanded and adapted our internal system of justice concepts to a world-wide endeavor: to strike the proper balance between the rights and freedoms of individual nations and governments vs. the rights and freedoms of the world society as a whole.
Simple in concept, not so simple in execution; with seemingly daily eruptions of new violence or threats, the nature and extent of our international involvement often appears to be a slippery slope. While debates (and these days, often rants and raves) will no doubt incessantly continue regarding the proper and correct balance points for the freedoms embraced in those internal and external endeavors, there can be no debate about the gratitude and respect we owe to the people whom have made our freedoms (and even the luxury to debate the balance points for those freedoms) possible: the men and women of our military, past and present.
Death-tolls of our military in United States conflicts to date have often escaped public awareness, but merit our full attention: Revolutionary War (1775-1783) 24,435; Northwest Indian War (1785-1795) 1,221; Quasi-War (1798-1800) 20; Barbary Wars (1801-1815) 35; War of 1812 (1812-1815) 20,260; 1st Seminole War (1817-1818) 30; 2nd Seminole War (1835-1842) 1,500; Mexican-American War (1846-1848) 13,283; 3rd Seminole War (1855-1858) 26; Civil War (1861-1865) 558,052; Indian Wars (1865-1898) 919; Spanish-American War (1898) 2,446; Philippine War (1898-1902) 4,196; Boxer Rebellion (1900-1901) 37; Mexican Revolution (1914-1919) 35; Haiti Occupation (1915-1934) 146; World War I (1917-1918) 116,708; World War II (1941-1945) 407,316; Korean War (1950-1953) 36,914; Viet Nam War (1964-1973) 58,169; Iran Hostages 8; El Salvador (1980-1992) 20; Beirut (1982-1984) 266; Libya (1985-1986) 2; Persian Gulf Support (1987-1988) 39; Invasion of Grenada (1983) 19; Invasion of Panama (1989) 40; Persian Gulf War (1991) 293; Somalia (1992-1993) 45; Haiti (1994) 4; Bosnia (1995) 12; Kosovo (1999) 2; Iraq and Afghanistan (2001- ) 5,885 [to date, according to The Washington Post's "Faces of the Fallen" daily count with picture of each; CNN has a similar on-line daily count with map location with detailed bio, picture and circumstances of death regarding each: cnn.comwarcasualties
Memorial Day was first officially proclaimed by General John A. Logan, National Commander of the Army of the Republic, on May 5, 1868, in "General Order No. 11." The language of his Order No. 11 is an eloquent reminder of the meaning and purpose of the day: The 30th day of May, 1868, is designated for the purpose of strewing with flowers or otherwise decorating the graves of comrades who died in defense of their country during the late rebellion, and whose bodies now lie in almost every city, village, and hamlet church-yard in the land. In this observance no form of ceremony is prescribed, but posts and comrades will in their own way arrange such fitting services and testimonials of respect as circumstances may permit.
We are organized, comrades, as our regulations tell us, for the purpose among other things, "of preserving and strengthening those kind and fraternal feelings which have bound together the soldiers, sailors, and marines who united to suppress the late rebellion." What can aid more to assure this result than cherishing tenderly the memory of our heroic dead, who made their breasts a barricade between our country and its foes? Their soldier lives were the reveille of freedom to a race in chains, and their deaths the tattoo of rebellious tyranny in arms. We should guard their graves with sacred vigilance.
All that the consecrated wealth and taste of the nation can add to their adornment and security is but a fitting tribute to the memory of her slain defenders. Let no wanton foot tread rudely on such hallowed grounds. Let pleasant paths invite the coming and going of reverent visitors and fond mourners. Let no vandalism of avarice or neglect, no ravages of time testify to the present or to the coming generations that we have forgotten as a people the cost of a free and undivided republic.
If other eyes grow dull, other hands slack, and other hearts cold in the solemn trust, ours shall keep it well as long as the light and warmth of life remain to us.
Let us, then, at the time appointed gather around their sacred remains and garland the passionless mounds above them with the choicest flowers of spring-time; let us raise above them the dear old flag they saved from dishonor; let us in this solemn presence renew our pledges to aid and assist those whom they have left among us a sacred charge upon a nation's gratitude, the soldier's and sailor's widow and orphan.
Memorial Day was observed essentially in the northern states only until after World War I, when the holiday changed from honoring only those who died fighting the Civil War to those Americans who died in any American conflict. And, today, it should also serve as an observance of those whom have incurred casualties other than death. According to the Pentagon, at least 32,079 U.S. troops have been wounded in Iraq and at least 11,191 more wounded in Afghanistan. Modern improvements in equipment, body armor, in-field treatment, evac, and medical procedures save the lives of many whom would have been mortalities only a few years ago, but often leave them instead with significant long-term impairments.
Veterans of wars decades ago have long carried physical and psychological wounds, the extent of which has only recently been acknowledged as grossly underestimated and misunderstood. Extended deployments often result in broken marriages, broken homes and life-altering economic sacrifices. And, as noted by General Logan in the last paragraph of his Order, the family members of those in uniform suffer casualties of war as well, and merit our aid, assistance and gratitude.
The lengths to which we will go as a nation to promote and ensure freedom seem to be boundless and tireless. The lengths to which we will go as a nation to honor and thank those whose sacrifices secured and maintain those freedoms should be no less boundless and tireless.
QUOTE OF THE MONTH: "If other eyes grow dull, other hands slack, and other hearts cold in the solemn trust, ours shall keep it well as long as the light and warmth of life remain to us." General John A. Logan