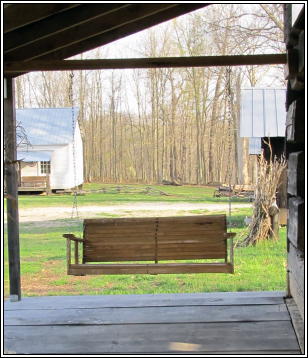 Rick Poling's Porch Stories
By Rick Poling
Executive Director
Calhoun County Committee on Aging
rpoling@cccoa-wv.org
One of my five all-time favorite teachers visited the Senior Center last week. Don McCartney, who dedicated decades to teaching English grammar and literature to Calhoun's Junior-High students, performed as a member of Gilmer County's visiting choir.
After gently chastising him for defecting from Calhoun to a neighboring county (and I do mean "gently," as I still had a sense that the infamous paddle he called "Board" was somewhere nearby), I told him how greatly I've appreciated through the years the ways he taught our bunch of impressionable young farm-boys that it was not only alright, but indeed advantageous for boys to develop an appreciation of literature and poetry.
At such a formative age, it would be easy for rural boys to decide that such things were for girls and "sissies," not "real men;" he had set us straight on that.
I can still remember, as if it were yesterday, Mr. McCartney standing in front of the class, aggressively demanding in his booming deep voice an exact understanding of how to properly construct sentences ("good enough" never was), and forcefully banging on the blackboard at nouns, verbs, objects, adverbs and adjectives with a wooden pointer (how that thing never broke is an absolute mystery).
In the next moment, that same deep voice would be gently reciting "In Flanders Fields the poppies blow between the crosses row on row" with feeling and emotion punctuated by moisture in his eyes. He taught us much more than English; he taught us to be precise in the small details yet to be large in thought and broad in mind.
Glenna Pitts was my second-grade teacher, but she made an impression that carried throughout my following seventeen years of school in Calhoun and in undergrad and law school at W.V.U. She projected and fostered a very positive and excited attitude about learning . . . it was infectious . . . and, more importantly, she made it clear that the scope and quality of our learning was not even in the slightest limited by our rural background or geographic location.
We saw that we had all the learning options and potential available to us as anyone else in the world.
Mrs. Pitts also exposed us to things beyond the scope of a typical second-grade curriculum, such as discussing a variety of then-current affairs and playing classical music recordings and teaching us to experience the culture and story unfolding from the music; we learned of the tribulations of Rimsky-Korsakov's Scheherazade, the life of Schumann's The Happy Farmer, the cadence and discipline of The Cabbage Waltz, and much more.
In her class, we learned that there is a vast world out there and we should feel ready and eager to drink it in.
Fred Barnes taught high-school biology, to be sure, but mainly, Fred Barnes taught LIFE. He expected excellence, and made us all believe we were capable of it. He taught by example as much as, if not more than, by subject-matter. He had not missed a day in thirty-nine years of teaching.
He had an exuberance and enthusiasm about learning and life that you could palpably feel any time he was in sight, no matter the distance, whether halfway across a classroom or halfway across town.
I soon learned when I started college that Fred Barnes had taught on a college level rather than high-school, and the preparation he had provided was invaluable. (In fact, it became more and more clear each year of college and beyond that the caliber of the teachers and the school system in Calhoun was exceptional; people looking from only inside our county's borders could no doubt always find things to criticize, but looking beyond those borders brought things into sharper and more accurate focus. We were blessed.)
Joe Wilt was another teacher who taught high school on a college level, demanding excellence and attaining it even from those whom were initially adamant that they lacked the aptitude to be merely adequate. From a total available student pool of 600, he built a 120 member choir that achieved great notoriety throughout West Virginia and beyond.
But, more than music, he taught people how to work together and to be "citizens" whom treated each other with equality and respect. He required that individual egos be left at the door and that all focus be wholly placed on the good of the group and the quality of the group's performance and product (if only more members of our legislative bodies had been in one of Joe Wilt's choirs or learned those concepts; we would hear much more of the resulting social advancement and achievement and much less of today's incessant self-serving political sound-bites).
Of the greatest value though, Mr. Wilt taught that most of the limitations placed upon us are self-imposed . . . and that we ourselves have the power to remove or diminish many of those limitations.
Don "Frog" Young was a Calhoun Varsity football coach. He too, like Don McCartney, taught young impressionable boys to not be narrow-minded by example; he had been a member of the All-State Chorus when he was in high school, and he encouraged his football players to become multi-talented and to sing in the choir.
Many of us did, and he often visited choir practice to check up on us and to join in the bass section. He believed singing in the choir taught another sense and type of teamwork and broadness of balance and mind that was useful on the football field as well as in life.
But mostly, to my way of thinking, it was the way he coached that made the greatest lasting impression. I learned in college philosophy and sociology classes that when all human action and decision-making is examined and reduced to its lowest common denominators, nearly all of human-beings' decisions are based upon simply two factors: either the avoidance of pain or the pursuit of pleasure.
Coach Young chose to motivate players through the use of positive praise and feedback rather than through negative insults or put-downs common to coaching. Ever since then, no matter whether it is a personal or business or "life" consideration, it has seemed clear to me that far more can be accomplished through the use of positive feedback and motivation rather than through methodology that uses fear or negativity to try to influence behavior or performance.
We're never too old to learn . . . or to learn and re-learn the value of things learned long ago. I've just re-learned that the lessons and attitudes learned about learning are just as valuable as the actual subject-matter learned.
Perhaps even more so - because while some of the lessons about "subjects" may be forgotten or become outdated, the lessons learned about learning all last a lifetime.
QUOTE OF THE MONTH: "In a time of drastic change, it is the learners who inherit the future." Eric Hoffer