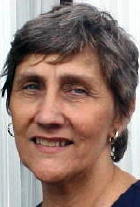 By Ann Richards Francis
arichards.francis@gmail.com.com

In Southeastern Colorado, on Highway 212 is Little Bighorn Battlefield where Lt. Col. George A. Custer fought his infamous battle with the Indian Lakota tribe. Here is where the U.S. Cavalry soldiers of about 210 officers and troopers were totally defeated.

Custer had led skirmishes against the Lakota Indians in the Yellowstone area and in the Black Hills breaking another treaty made with the Indians to give them these hills for their own territory.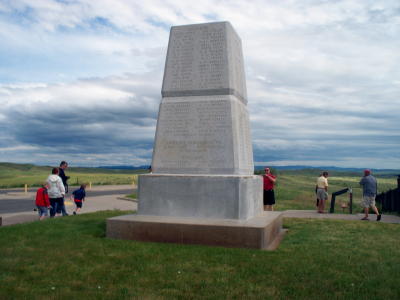 U.S. 7th Cavalry Monument
Originally, the U. S. plan called for three forces, under commanders John Gibbon, George Crook and George Custer to trap the Lakota and Cheyenne Indian tribes and defeat them. The Indian tribes had been forced from their land over and over and the battle at Little Bighorn against Custer was one of their last armed efforts to retain their lands.
Custer, in his passion for glory, did not wait for John Gibbon and George Crook to join him at the battle site. Custer had advanced more quickly than ordered and Gibbon's infantry was slow in arriving. Unknown to Custer, Crook's forces had been turned back by Indian Chief Crazy Horse.
Custer ordered attack on the Indian Lakota village, splitting his own men into three groups attempting to keep fewer Indians from escaping.
Miscalculating the numbers of outraged Lakota, Cheyenne and Arapaho warriors, Custer and his men were quickly surrounded by hundreds of shouting Indians who forced them onto a dusty, grassy ridge where all 210 men fell dead.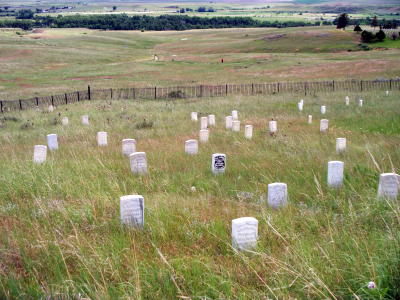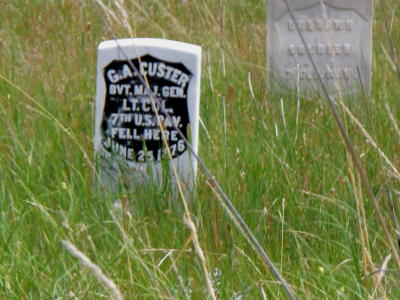 History depicts Custer as a victim of Indian savagery, when, in fact, he attacked the Indian village. He was carrying out President Grant's instructions to remove the Lakota Sioux and Cheyenne Indians to the great Sioux Reservation in Dakota Territory. The Indians were fighting to preserve their way of life as nomadic buffalo hunters.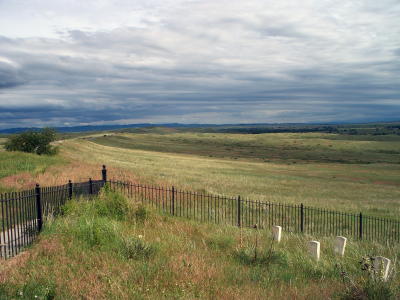 Standing on the windy ridge at the battleground I thought of the senselessness of human greed. It is a quiet place now. The battle cries are gone. The Indians warriors are gone. The U. S. soldiers who fought there that day are gone. Custer is gone. And all is quiet again.
As we left we stopped at a restaurant where we were served Indian Fry Bread with honey. Fry bread is a Navajo recipe. I found recipes for the fry bread on the Internet, but haven't tried any of them. Somehow, to make it myself takes away from the originality of it.
There is a gift shop there along with the restaurant. I got a necklace as a souvenir.
Here, in WV where the heart is, I find myself being drawn back to the Indian heartland of America.