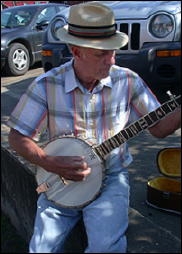 By Mack Samples
www.macksamples.com

During the weekend of March 4-6 the West Virginia Extension Service conducted its annual Dance Weekend at the State 4-H Camp at Jackson's Mill. This year, it was a happening. It was by far the largest camp ever.

Four hundred and forty-four West Virginia kids showed up for a weekend of dancing and fun. They came from all over the state; west to east from the eastern panhandle to the Ohio River; and north to south from Mineral County to Mercer County. Mason County alone sent sixty 4-Hers. Ages ranged from 12 to 18 for the 4-Hers but there were also several adult dancers on hand. Some were counselors, some instructors, and some were just hangers-on who went to the camp when they were young and still return each year.

The event was created by Rush Butcher who was the Nicholas County Extension Agent for many years. It started out as a county event in 1972, conducted entirely in Nicholas County. But as other counties expressed an interest in joining the camp, it was moved to Jackson's Mill in 1978. Tony Nicholas, who was trained by Rush, is now the coordinator.

Rush taught the kids square dancing, Scottish and Irish dancing, English country dancing, along with some other folk dances from around the world. He did most of the instructing himself. But as the camp grew in size, other instructors were brought in to help. Nowadays many other dances have been added. Participants can now choose from a wide variety of dancing including country line dancing, Morris dancing, swing, and clogging.

The campers come into Jackson's Mill on Friday evening and go through a two to three hour intense training program. It is amazing to watch as kids who have never square danced are getting through many of the basic routines before the evening ends. On Saturday, everyone chooses from a wide variety of dances and master many of them before the day ends.

But the best part of all is Saturday night when the participants get to square dance to a live band. And it is not just any live band. Some of West Virginia's premier old time musicians come to provide the music. We had Dave Bing from Roane County on fiddle, Gerry Milnes from Randolph County on banjo, Andrew Dunlap from Kanawha County on Guitar, and John Preston from Cabell County on Bass. It does not get any better than that.

The Saturday night dance is an inspiring thing to watch. When that hot band cranks up, the kids hit the floor whooping and hollering, ready to dance. Most of them look like they have been square dancing all of their lives. I am honored to do most of the calling, with an assist from Randy Nutter and Don Dransfield. I get emotional just watching.

If you think America's youth has gone to hell in a hand cart, just come to Jackson's Mill on the first weekend in March. We'll restore your faith in the young generation. We will also destroy all of the misguided myths about square dancing. Those who believe that square dancing is not a cool thing to do for the young, will be convinced otherwise. They will see good looking teenagers, girls pretty enough to be cheerleaders or majorettes, out on the dance floor having the time of their life. Those who think dancing is not for real men will see bull-necked boys, boys in well-worn cowboy boots, and boys with hands calloused from farm work dancing with pretty girls.

When I look out on that dance floor and see four hundred plus teenagers smiling, dancing, hollering, and having fun in a drug-free, booze-free, safe environment, I know why I very willingly volunteer my time and limited talent each year at Jackson's Mill.