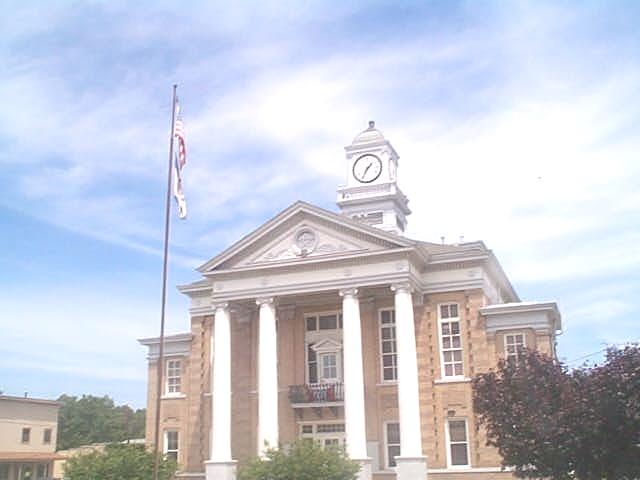 Wirt County Courthouse
By Bob Weaver
It is midnight in the garden of Wirt County, as voters go to the polls Tuesday to approve or reject a three year operating levy. The smallest county with the lowest tax base may be the first of several West Virginia counties to go asunder, a victim of default.
Some say it is too much or too little, too late.
It is a county, like many rural counties, that has been victimized by mandates and legislation, from the high costs of a regional jail to the eighty-cents an acre taxes charged Westvaco, the largest land owner in the county.
The higher powers in West Virginia have long planned the vision to reduce the counties, bigger ones taking over smaller ones - all in the name of efficiency and reduction of costs. Centralization is the name of the game around the Mountain State.
The peaceful, pastoral country life many of us value will becomes part of a more urban world, to be taxed and developed. Those super low taxes will be a thing of the past and those who govern and serve will be elected by voters in populated areas, a form of taxation without representation. The local political "weasels" might even begin to look pretty good.
In the Wirt County Journal we read accusations of political skullduggery, politicians who have drug their feet, and some who say levy passage will only stay-off the death of the county. All may have some merit and make interesting points, but its a nickel late. It is midnight!
There is another confusing take against levy passage. If the levy fails, there will still be a Wirt County to be self-determined by constitutional vote. While counties can decide their consolidation by a vote, the counties failure to maintain constitutional government means it will no longer exist.
If the county sits and does nothing, in legal default, I'm quite sure its future will be determined by legal authorities and the West Virginia Legislature.
With fewer people spiritually concerned to their place of origin, it may be easier to give up the 230 square miles of land, some of it beautiful flat land along the Little Kanawha River. Wirt is a treasure that holds great promise, if only for the quality of life it could protect.
It has been a while since William Beauchamp came through in 1796 to build a grist mill in 1803, long before the development of oil, gas and wood products, most to be taken away by large corporations, leaving little behind to support life in the community.
Over the past two hundred years, it has mostly been a county of farms. People close to the earth. No matter what happens at the polls Tuesday, we hope to remember them in a generous light. Farmer citizens who stuck close to simple values and lifestyles. The chaotic world will someday look upon these country people with favor.
For those of you who read The Herald in distant places and might not understand this, time to take a look at WIRT FROM THE ROAD.