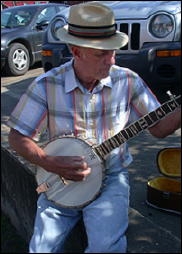 By Mack Samples
www.macksamples.com

It has probably happened already by the time you read this. But if it hasn't, it won't be long until the sap will begin to rise in the West Virginia forest. In my youth, down along the Elk River, that was a much observed happening. Most every year, sometime in March, one of the local boys would come by my house with a hatchet and a smile and say: "saps rising in the birch trees." He didn't have to tell me twice. I would just pull on my jacket, head for the tool shed to retrieve my hatchet, go by the kitchen and get me a spoon, and we would head back into the hills.

In that particular sector of the West Virginia woodlands, there were a lot of black birch trees once you got back away from the river. Some of them got to be good-sized trees. And those of us who were fortunate enough to live in that region knew that there was a tasty treat waiting on the inside of the bark once the sap started to flow.

We would sometimes walk an hour or so before we found a birch tree that would suit our purpose. It was best to find one that was at least eight or ten inches through, but the bigger the better. Once we found the tree that suited us, we would take our pocket knives and outline an area on the truck, usually about five inches wide and eight or ten inches long. We would then take the hatchets and cut all the way through the bark. Most usually, some of the sap would start to ooze out as we made the cut.

Once we got a good cut all the way around the outlined area, we would take the hatchets, gently slide them under the bark and begin to pry the slab off the tree. When the outlined section popped off, our smiles would broaden. We would sit down on the ground, lean back against a big tree, take out our spoons , and scrape off spoonfuls of very tasty stuff from the inside of the bark.

Did our actions ruin the tree? It probably didn't do it any good. But most usually, the scar would heal over in a couple of years and you could hardly notice where the cut had been made. I suspect that environmentalist and state foresters would have a kitten now-a-days if they caught someone hacking at a birch tree the way we did. But the trees that we sapped belonged to our grandpa or some of the adjoining neighbors. They did not mind at all so we didn't worry about it. (I don't think there were any environmentalists around in those days).

Yes, I know that some who read this will probably muse to themselves, "that's the dumbest thing I ever heard of." I once told one of my neighbors about it when I lived in South Carolina and he cracked up. He said, "I knew those West Virginians were wild but I didn't know they ate trees."

You, of course, are entitled to your thoughts, but if you ain't never sapped a birch tree, you don't know what you're missing!