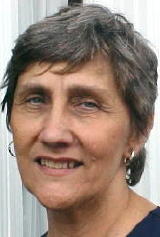 By Ann Richards Francis
arichards.francis@gmail.com.com

Finding time to finish my Wyoming story has been a challenge, so I will hit two highlights of the trip there, the wild mustangs and the site of the battleground of Lieutenant Colonel George Armstrong Custer's battle with the Lakatoa and Cheyenne Indian tribes.

While driving around one day, we came in the back way of Pryor Mountain, past a sign that told us of the wild Mustangs. Little did we know how long it would take to find the horses. We should have gone by way of the Pryor Mountain Mustang Center where we could have gotten maps of how to get to the range where the horses were usually grazing.

We drove over narrow paths up and up and up winding around and around the mountain looking for a sign of a horse. Nothing. The truck started getting hot. We stopped and let it rest awhile, then continued up, up, up.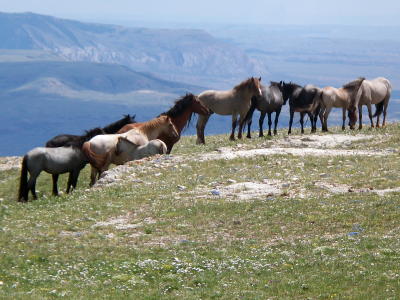 It was summer and the horses leave the lowlands in spring to ascend to the pasture lands at the top. Finally there were some trees and flowers along the bumpy "road" and signs of horse manure. Okay! I said, thinking we might finally find our horses.
Still, no horses. More climbing. A band of 4-wheelers went around us. I guess we had driven up the 4-wheeler road. They roared around us and on ahead out of sight. Then, suddenly, all became clear ahead of us as green pasture land appeared. And there they were! The wild mustangs. Some were grazing. Some were running. Some were standing still.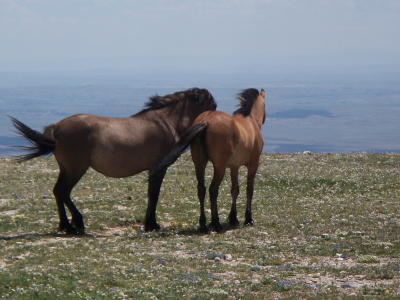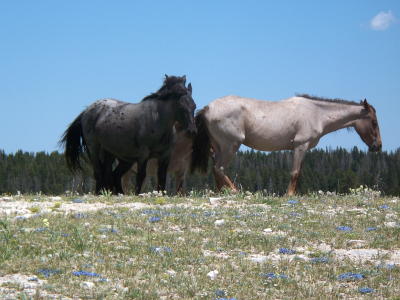 There was a touring van parked there. People were standing around taking pictures and then we realized we had come in the back way. We found out how much better the road was when we left on it, going down from the mountain.
These horses in the wild mountain pastures was a picture of freedom. I wanted to touch them. They were close enough to touch and didn't move as we walked around. These majestic animals are awesome.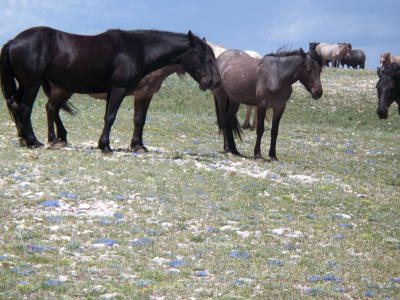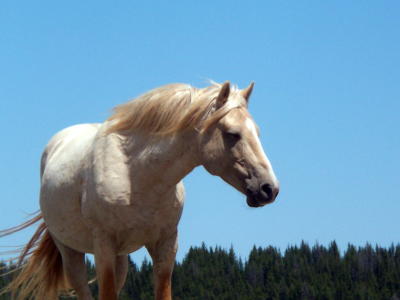 I will save the Battle of the Little Bighorn for the next story. There is a sadness at the battle site. So many lost their lives and the story of the U. S. Government encroachment on the American Indian territories is not one to be proud of.
Sleep calls me here where the heart is. Hope you like the pictures I took.