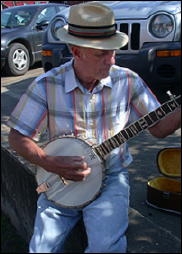 By Mack Samples
www.macksamples.com

If you look back over the history of West Virginia, you will notice that major empire builders among our native sons are few and far between. Most of the men who made moves to create the industrial base in West Virginia during the 19th and early 20th Centuries were born and grew up elsewhere.

Soon after we became a state in 1863 and got the Civil War behind us, it became obvious that West Virginia was blessed with an abundance of the natural resources that the growing country needed. Timber, coal, oil and natural gas were much in demand. Yet, no native West Virginian stepped forth to do anything about it. Perhaps it was because there was no capital here to work with, or, it may have been because the old Scotch-Irish natives were just not endowed with an entrepreneurial spirit. I tend to favor the latter.

Henry Gassaway Davis came into the area from Pennsylvania and built a major empire based on the extraction of coal and the building of railroads to transport it. His efforts created thousands of jobs and brought about growth and change in our state. His son-in-law, Stephen B. Elkins, was born in Ohio and matured in Missouri. He also spent time in New Mexico where he was involved in some questionable land deals. But once he met and married into the Davis family, he proved quite capable of carrying on the empire. Both Davis and Elkins became United States Senators representing the Mountain State. Davis was even the Democratic nominee for Vice President in 1904 with Alton Parker at the top of the Democratic ticket. But Teddy Roosevelt was too much for them. As we all know, two towns in our grand state are named for them.

Collis P. Huntington, who helped build the Union Pacific end of the transcontinental railroad saw an opportunity to build a railroad from the coastal Virginia area to the Ohio River. His vision resulted in the Chesapeake and Ohio Railroad. I shudder to think how many jobs that venture has created in West Virginia over the years. And, if my memory serves me correctly, I believe that one of our larger cities bears his name. Would any of our native sons ever gotten around to building that railroad which had such a huge impact on our state?

Then, of course, there is J.G. Bradley, native New Yorker, who built his own personal empire in Widen. Again, I wonder if any native of Clay County would have ever figured out how to develop that huge seam of coal. Would anyone in West Virginia have created anything close to the three million dollar payroll that Mr. Bradley developed in that rugged, isolated area? To put that in perspective, we all need to contemplate how much money three million dollars was during the 1930's and 40's.

Modern history books go on and on about how such men as the above examples came in and "exploited" our state. I suppose that is one way to look at it. But in my mind, I wonder where we would have been without them. We might well still be digging a living out of the dirt, feasting on groundhog, and drinking sassafras tea.

I write these lines as a fifth generation West Virginian, immensely proud of his Scotch-Irish heritage. At the same time, I am not mad at those who had the savvy, talent, and capital to develop what West Virginia had to offer. I seriously doubt if mine and your ancestors would have ever gotten around to it. The truth is I do not know of a single town in West Virginia named after a Samples.