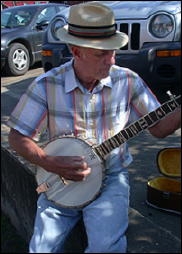 By Mack Samples
www.macksamples.com

Dr. James Gay Jones was always my favorite history professor when I was a student at Glenville State College. I could always ace his tests without ever buying a textbook because he tested almost entirely from his notes. But what I liked best about his lectures was the fact that he always included little trivial facts that really did not have much to do with the course of history. I vividly recall his story about our eighth president, Martin Van Buren (1837-1841).

Van Buren was a native of Kinderhook, New York, an old Dutch village that was settled back in the 1600's. Literate readers may recall that Kinderhook was where Washington Irving wrote "The Legend of Sleepy Hollow." In fact, he was staying at the Van Buren home when he wrote it.

But, according to Dr. Jones, Van Buren became known by his political cronies as "Old Kinderhook." He evidently liked the moniker because when his aides sent him memos and documents for his consent, he would approve with the initials "OK." It wasn't long until the two letters caught on and everyone was using them as a nod of approval.

It should be noted that this little story is not the undisputed version of the origins of OK. One explanation has it that it came from the apples that grew in the many orchids at Kinderhook. When they were shipped from that area, they were marked OK to clarify their origin. They came from Old Kinderhook. The Kinderhook apples were always some of the best, so the OK term came to mean good quality.

Another version says that the Boston wits of the time took to playing "the waggish game of murdering the King's English," and in that game, OK became the abbreviation for Orl Korreck or "all correct." I remember hearing this version from one of my high school teachers. But I for one have never had much faith in Boston wits.

Evidence of the Van Buren version of the term can be verified to some extent by viewing the campaign stories in the newspapers of that era. OK was used widely as the name for Van Buren, even in some of the foreign presses.

Regardless of where it came from, OK has become one of the most universally understood expressions of all time. I always think about going into Sasebo, Japan in 1957. At that time we were only 12 years beyond World War II. Other than the broken English of the bar girls, you heard practically no English from the natives. Yet, just about every one of them knew what OK meant.

Van Buren is not known as one of our great presidents. He came on the heels of Andrew Jackson, a pretty tough act to follow. William Henry Harrison, who lived only five weeks after he was inaugurated, was too much for him and Van Buren was swept out of office to the cries of "Van, Van is a used up man."

But what other president has made such a contribution to global understanding? True, the story related by Dr. Jones may not have been the true explanation of the term, but it was far and away my favorite one.