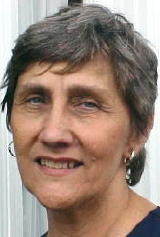 By Ann Richards Francis
arichards.francis@gmail.com.com

After three days at camp and knowing we were getting low on water, we left there for a campground where we could replenish our supplies and get a shower. We drove to Cody Wyoming and set up camp at the Ponderosa campground.

Cody is named for Col. William F. (Buffalo Bill) Cody. It was established in 1896. If you visit there be sure to see the Buffalo Bill Center, Cody Firearms Museum and Cody Nite Rodeo. There are many more attractions there, but seeing them for yourself is better than reading about them. Cody Wyoming is called the gateway to Yellowstone.

We did our laundry and decided we would rather visit Yellowstone National Park again. We had seen Old Faithful before and wanted to look at more of the park.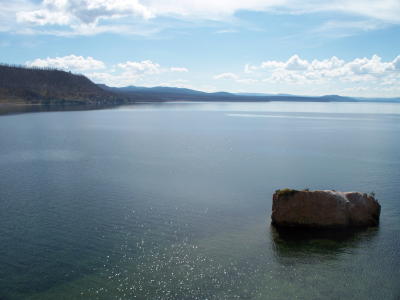 Driving around Yellowstone Lake, I walked along the edge and picked up some colorful pebbles and a little piece of driftwood. Yellowstone Lake was formed when the earth erupted long ago and when it settled, there was the huge cauldron we now know as Yellowstone Lake.
I wanted pictures. Moose was the picture I wanted most. There are many animals in Yellowstone. Buffalo are easy to find. Mule deer sometimes can be seen. Once in awhile the illusive elk are visible, but never close to the public and they quickly disappear once they see a human being.
Traffic stopped us as we were driving up a mountain and we could see that there was nothing we could do but wait. Then, we heard a park ranger telling them to move on. As we finally reached the point of interest, cars were pulled over anywhere they could be parked and people were climbing a hill with cameras. A grizzly bear with cub was within sight and was ignoring everyone as she moved slowly upward with the cub following. There are warnings in Yellowstone to stay away from grizzly bears, but that doesn't stop people from trying to get pictures. I had no camera that day, having forgotten to bring it. The bear was too far away for a good picture with my camera anyway.
Finally, the traffic moved on and we headed for Mammoth Hot Springs where there are many geysers bubbling and erupting out of the ground. Before we got far there was another traffic jam. This time it was an eagles nest high in the top of a pine tree. There was no way to get a picture, but some were trying.
Driving along with heavy traffic I could look around at the view. Below the road was a black bear. That was not very exciting since we have black bears here in WV. It was oblivious to the traffic anyway, finding food there.
Mammoth Hot Springs is a beautiful place to visit. There are plenty motels and other attractions there for tourists. Board walks allow visitors to walk among the spectacular terraces and the steaming, bubbling earth. Hot water flows over the levels of mineral buildups, depositing more and more minerals to the terraces as time goes by.
Fatigue caught up with us before we could cover all the places we wanted to see that day and we started back to Cody. Coming down the mountain highway, one thinks that surely there must be bottom somewhere. Down from there and getting more tired by the minute, I had given up on seeing a moose. There was little light left as night came down on us.
Then, up ahead, a vehicle was pulled over. This always means that there is an animal to see. We stopped and whatever it was, it was moving. The other vehicle left, giving up. We started to leave also and that was when it moved again into full view. It was my moose, a big bull climbing a bank. Backing up the truck, we got closer and could see him pretty well. He payed no attention to us, but continued to off the leaves of the bush he was eating from as we watched. Why could I not get a picture of this splendid animal? Two reasons. I forgot my camera and even if I had not forgotten it, it was too dark to get the picture. Later on, in a different place, I got my picture of a moose.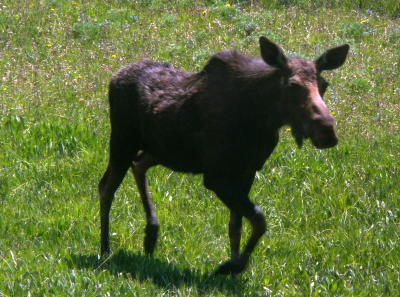 That is all for now. It might take a few more times to tell of all I can remember about Yellowstone. It is a wondrous place. Here, where the heart is, things keep me so busy I hardly have time to think let alone tell anyone else about our trip to Wyoming.