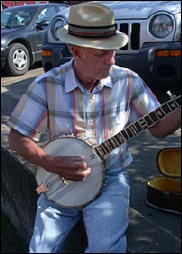 By Mack Samples

In recent months numerous publications that feature articles about fashion have mentioned the fact that fedora hats are again becoming fashionable and are making a big comeback. I have serious doubts about that.

The fedora is defined in my 2004 version of the Merriam-Webster dictionary as "a soft felt hat with the crown creased forward." To me, that's a pretty narrow definition. It does not say anything about the width of the brim, or the fact that many straw hats are also shaped in the same manner as the felt fedora. But I guess my question is, how many men have you seen lately wearing a fedora?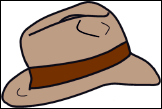 I have been sort of doing my own survey of late and I am here to tell you that I have seen next to zero such hats. I recently attended the big doo-wop old car show in Charleston which was primarily a male event. Of the hundreds and hundreds of men who were walking down Kanawha Boulevard, stepping around old cars and peering under hoods, I did not see a single person wearing a fedora. In fact, the overwhelming number of men wore no hat at all.
Additionally, I was surprised to see very few baseball type caps. Many of the men were proudly showing off their shinning bald heads.
I have also been paying particular attention to the crowds at sporting events that dominate the television. Again, I notice most of the men are bare-headed or are wearing caps of one sort or another. During the first two games of the current World Series I did not see a single fedora when the camera swept the crowd.
The music circuit that I traverse during the summer and fall months generally attracts crowds of older men. Yet the sight of a fedora hat is a rare occurrence at such events, except for some of the performing musicians who try to set themselves apart in some way or another.
Compare my feeble surveys to any photo of groups of men during the 1930's, 40's and 50's. Every man in those photos wore a fedora. Some say the demise of the fedora started when President John Kennedy chose not to wear a hat at his inauguration, and never wore one afterwards. But I think it started before then. Back in the late 1950's when I traveled the world with the U.S. Navy, I noticed that more and more men were hatless.
Then at some point during the late 1960's and early 1970's the baseball cap trend swept the nation. There were several years during that era when you rarely saw a man without a baseball type cap. Even the girls picked up on them, many of them sprouting a pony tail through the adjustment hole in the back.
But as we move into the 21st Century I think I see another hatless trend developing. And, I don't believe for one instant that the fedora hat is coming back, at least not on a very large scale. What is really happening is that those who try to influence fashion trends, in an attempt to sell particular items of clothing, try to flood the news media with articles that make everyone think that a trend is coming down the line. Sometimes it works. Oftentimes trendy people really do race out and buy items if they think it's going to be cool. I don't think it is going to work with the fedora.
Yes, hemlines may go up or down, ties may be wide one year and thin the next, shirt collars may be peaked one year and round the next, but the real past never comes back.
Among my earliest memories is standing around on Capitol Street with my dad in downtown Charleston during the early 1950's. We would lean on parking meters and car fenders while we waited for my mother to shop the multitude of stores that used to populate that bustling corridor. In those days Capitol Street was virtually a sea of fedoras. Are we ever going to see a scene like that again? Fat Chance!