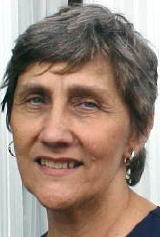 By Ann Richards Francis
heartpaths@yahoo.com

It was getting late and we needed to camp. The Wind River Campground was still closed, so we needed to stay in the Atlantic City campground, an old gold mining town. This Atlantic City is nothing like the one in New Jersey. Far from it. Only one restaurant. It was closed. There were no people to be seen. However, people live there because the dwellings are well cared for and signs warned, No Trespassing. We were disappointed the next day to find the restaurant was closed. We had heard their hamburgers are out of this world.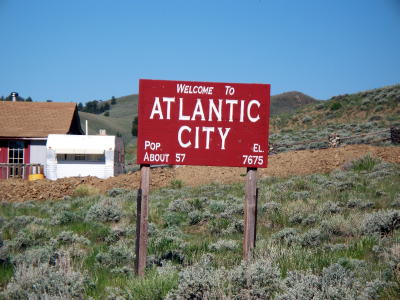 The campground at Atlantic City had no hook ups and the outside restrooms were too far to get to at night (with bears, wolves, and other creatures out there, are you kidding me?) so we decided there would be no going to the restroom during the night. The conveniences of having a self contained camper are wonderful. I had to think about how the people going west over the Oregon Trail had no such privileges, not even privies.
The campsite we took was a little tight to get into, but we only wanted to sleep. And that was what we did once the neighbors quieted down.
I must have been feeling a little less than safe there in the tall pines and the windy night. Had fallen asleep when I was shocked awake by what sounded like a gun shot right outside my window. I sat straight up. Harold was sound asleep. There was no noise except for the wind. So, concluding that it must have been a dream, I lay down and to my surprise, slept until morning.
It was nice to get on the road. Back to Wind River. It was open. Good! And the best part was that we seemed to be the first ones in the place. Grabbing the best campsite we could find, we set up camp and settled down to a campfire which we kept going even during the day.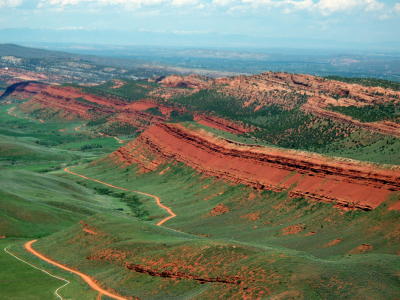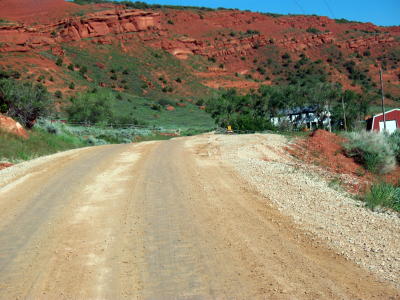 Driving down the mountain to sight see, I was awed by Red Canyon. Harold had, of course, seen it several times before, but as with so many great places to see, he said nothing until we were there just to see my reaction. I took pictures of everything trying to keep it for when we were back home. No matter how many times we drove past Red Canyon, it was still an adventure.
Wind River mountain range has many campsites and much wildlife. The roads are rocky and dangerous in some places if you meet someone else with a camper. One thing that is interesting is the rocks. Piles and piles of rocks. That is why they call them The Rockies. The Rocky Mountains are truly a wonder of nature.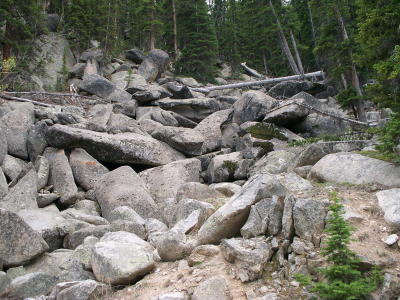 The quietness of Wind River mountains and the beauty of the mountain tops are hypnotic. One can sit very still around a campfire and relax while being mesmerized by the beauty there.
A chipmunk found peanut shells we left by the fireside and came close as we sat quietly by the campfire. It sat on Harold's shoe and looked at him for a few seconds, then scampered away. I threw out peanuts for the little fellow so it would stay around.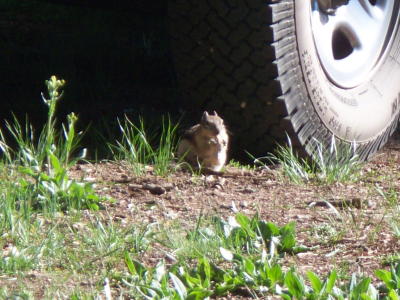 A mule deer showed up and I nearly fell out the camper door trying to get a good picture of it, which did not happen. It was so very quick and I got a good shot of a large pine tree which the deer was hiding behind as well as one of the inside of the camper door.
I kept following the deer as it slipped away from us like a ghost. Never did get a good picture. We drove out later looking for it and found it, but couldn't get close enough to get a good picture.