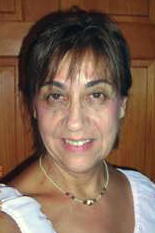 By Alice Hickman
heartpaths@yahoo.com

Summer 2010 has come and went. Where? I do not know.

Fall breezes graze my face and I am captured by the flying leafs, warm sun and clouds that are rushing over my skyscape.

Much of my summer was spent on old farms, pasture fields and wooded land. Why? Because this is the best place in the world for dirt bike racing.

Yes, it is true. Grannies love to go watch their grandkids. Especially when competing in Dirt Bike Races. Well it didn't begin with love. It began with total panic, extreme hyper-ventilating, pleading and begging and asking the boys if they are sure this is what they wanted to do. Pulling my hair out, crying, screaming and other employed tantrum tactics did not sway their decision. So off to the races I went.

Did I mention that this required rolling out of bed at four o'clock a.m., packing lunch and hot coffee thermos, hitting the road. One morning I hit something besides the road in my attempt to back my vehicle out a long driveway to get out of Jason's way. (It was his entire fault, of course) Guess I thought I had to drive as skilled as the other racers in the family. So I am now suffering total humiliation.

Levi's first year racing began in Pee Wee Class. His two sisters and brother rallied together to cheer, give advice, help pack his gear, push up hills or pick up fallen bikes or anything imaginable that might require an extra hand or hands. Grandmas Walker and Hickman (me) tried to do pictures and movies and the expected dutiful screams, "Go Levi - Go, Go, Go!"

The beginning races were kind of stunted with bike running problems. When that Cobra ran right it was unstoppable. But as the bike world goes, as much time is spent working on them as actual racing.

Momma Lisa's heart did stop one time during Levi's first race. The Cobra was loud and could be heard and easily identified. From a distance she heard the bike stop and went running down into the woods to see if he needed rescued. Instead she found Levi in the middle of rescuing another rider who needed assistance getting out from under his fallen bike.

Together they got the other boy up and back on his bike to watch him speed away as he got back into the race. But the Cobra decided it needed a little rest and a push to get up the hill. So the first lesson about racing. If someone has wrecked and/or hurt, stop and help. If they are ok and managing by themselves then continue on. After all, it is a race. However, Levi's family all agree that his compassion and sportsmanship makes him a 'real winner'. So much so that Daddy Jason is now re-writing a song, The Winner in honor of Levi.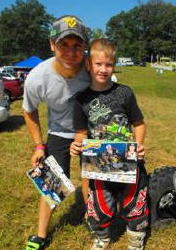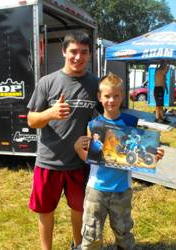 Levi with Adam McGill (left) and Walker Fowler (right)
Added bragging rights came the day the Walkers' from Calhoun parked beside Pro-Racers Walker Fowler & Adam McGill. Exchanged conversations and encouragement along with autographed posters and pictures with Levi made the family event extra special. Levi was happier about meeting them than he was about his own win that day.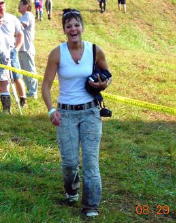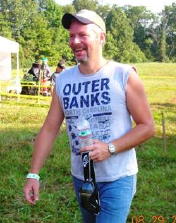 Lisa and Jason Walker as they rush back to the finish line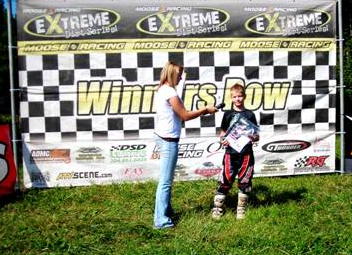 Levi, "I want to thank Dad……and Mom"
Of course there were many "You done good, Levi" encouraging remarks and pats on the back from his fan club. He has received several 1st. and 3rd. place plaques.
Hugs and kisses from Grannies were grimly endured by eight year old Levi in spite of the embarrassment.
Problems with the Cobra persisted and finally another bike seemed the only way to save face for this season as the last races were approaching.
Levi's last race was when everything fell into place and he gave it his all. He took 3rd place overall with eleven racers competing in the entire Pee Wee event.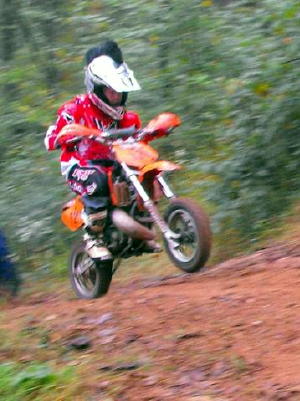 Levi getting some "AIR"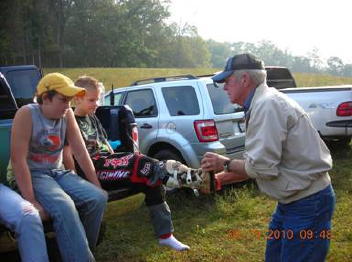 Adam and Levi with Grandpa Jack
Grandpa Walker was there for everything including pulling off the boots of a tired sweating mud-speckled face boy, after the race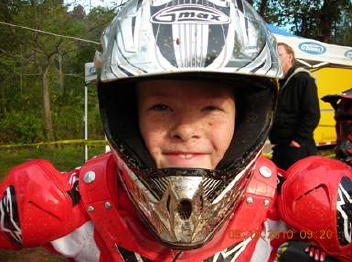 Levi is the family 'hero' for the moment
Well, one more race in October will finish the season for this year. All the family loves Dirt Bike Racing. Big brother Adam is anxious to blaze those trails.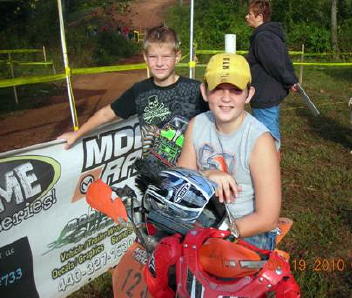 Levi and Adam Walker
We grandmas may have to have a few bake sales to help fund this family event with possibly four young competitors in our tribe. Or not.
I must habitually remember to fall on my knees and thank God for 'guardian angels' and his abiding protection. The foremost important assignment for grandmothers.
After that it is "Let's make this a family event and celebration". If you can't beat them, join them. Hey I don't want to stay home and bake apple pies while everyone else is attending the party. That rocking chair will just have to wait. There is way too much living to do.
Folding chairs, tents, peanut butter sandwiches, hand wipes, first-aide kit, bug spray and ibuprofen are part of my packing list. Next season I plan to bring along my quilting or crocheting in case I can't walk the trails. Along with a camp fire and coffee pot I will do a good job of holding down the home (tent) front while everyone else is keeping up with the racers. Oh yes, I must not forget my goggles in case the track again runs close to the camping place. It does get dusty.
So for now, "happy trail" until we met again!
That's where the heart is.