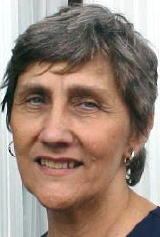 By Ann Richards Francis
heartpaths@yahoo.com

Before going on to Wyoming we need to visit two places in Nebraska. Scott's Bluff and Chimney Rock.

Scott's Bluff is named for Hiram Scott who was a fur trader during the early 1800s.

Scott died near this huge bluff which Indians called Me-a-pa-Te," hill that is hard to go around." After Scott died there, the bluff had a new name.

The cause of Scott's death is unclear. One story is that he was abandoned by his trading party because he became too sick to continue their trip. Another is that he was left 60 to 100 miles from Scott's Bluff but somehow made the journey until he was near the bluff and died there. The next spring, his skeleton was found where he died. The fortress - like rock was named in memorial to Scott.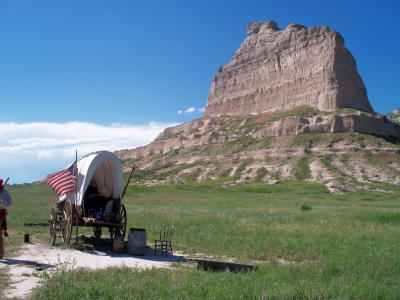 Scott's Bluff named for fur trader Hiram Scott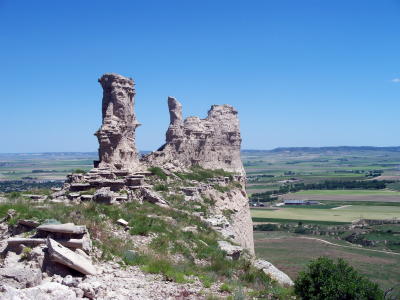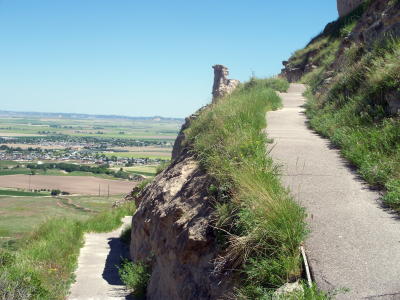 Scott's Bluff
We rode to the top of the bluff by bus. Then we walked down along a trail for walkers. There is a tunnel through part of it where markings made by humans remain, whether recently or in the distant past is not known. The walk down the trail is narrow and there are many different flowers along the way. The view is spectacular.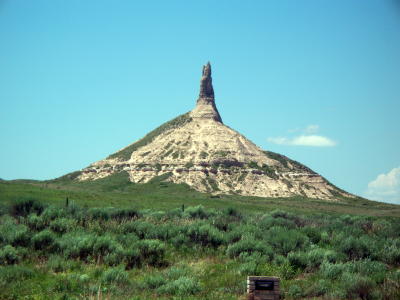 Chimney Rock
Chimney Rock is another wonder of nature. Rising out of the plains, it stands out for people to gaze at with awe and curiosity. The visitor center there has information about it. We were tired and the end of the day was approaching so we did not stay long at Chimney Rock.
I hope to see these two sights again and take more time to enjoy them. But, we were on our way to Wyoming and more beauty awaited us. We needed rest and kept on driving until we found a campsite where we could sleep and be ready for hours of driving the next day.
The west is a wonderland of never ending beauty. The remainder of the trip was yet to be discovered. I was looking forward to all of it.
For now that is all from Where The Heart Is.