Control oil and you control the nations; control food
and you control the people ... - Henry Kissinger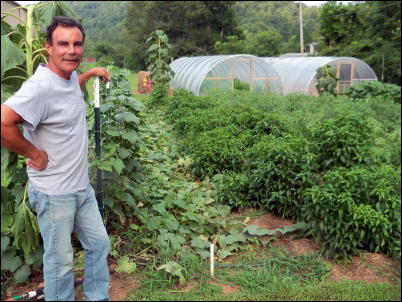 Bob Gregory of Minnora's Berea Gardens says altered seeds
and corporate control are a big problem with food supply
Save Our Seeds
By Bob Gregory
Berea Gardens
In a 1980 Supreme Court case, Diamond vs. Chakrabarty, a new paradigm for the production of our food was established. This case made it legal to patent life forms, including plants.
The biotechnology revolution that it spawned, particularly the genetic modification of our food crops beginning in the late 1990's, has altered the farmscape and food of America more in the past 12 years than any change in agricultural technology since the beginning of its practice.
Plant breeding and development companies can now cross the species barriers of nature and insert genes into plants from bacteria, viruses, animals and other plants.
The economic, social, political, legal, environmental and human health consequences of this new, relatively untested and unproven technology are enormous.
The Chakrabarty decision allows these companies to follow these gene constructs with their patent rights to wherever they might end up; your field, your forest, your garden, your plate.
The profitability and power of owning patents on food crops has led a handful of companies to take a huge measure of control over the seeds used by farmers all over the world.
The consolidation of the worldwide seed industry is only one aspect of this technology, but a very important one. Whoever controls the seeds controls the food.
Patent rights have also been extended to companies for entire lines of seeds that have not been altered by their gene-splicing techniques, and indeed lines of seed that have traditionally been in the public domain.
This is serious and profitable for the patent holder by virtue of their right to collect royalties through patent fees.
Over the course of the last decade hundreds of small, independent seed companies throughout America and the world have been bought out, taken over or squeezed out of existence by just a handful of giants: Monsanto, Bayer, Syngenta, Dow and DuPont.
The familiar names of our farming heartland, Pioneer, Northrup-King, Asgrow, DeKalb, along with scores of other crop and vegetable seed producers are now controlled by these giants.
My greatest concern over this consolidation is that the genetic heritage of our food crops is being lost in favor of those few varieties of plants that present the greatest profit potential.
In essence, the gene pool of diversity is drying up quickly. A mass extinction of traits is taking place that is permanent and irreversible.
An example of where this can lead is found in the apple industry.
In 1900 there were more than 7,000 varieties of apples being sold commercially in America. Today there are five, and over half of the apples now sold in the U.S. are imported from China.
This is a sad commentary for a nation that once took pride in its diverse agricultural heritage.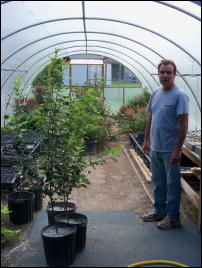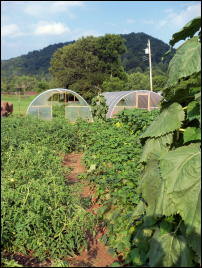 Sunny Cal should have a wealth of
local seed savers, says Bob Gregory
Allowing a multinational corporation to decide what will be on our children's plates based only on what will bring the most profit is a dangerous course that puts our personal food sovereignty at stake.
The seed industry has responded to concerns about the loss of this diversity by investing, along with the Bill & Melinda Gates Foundation, the United Nations and the Norwegian Government, in a seed vault located on the small arctic island of Svalbard.
The Svalbard Global Seed Vault currently retains thousands of samples from 3,714 different plant species.
It is by far the most ambitious project of its kind and has the largest collection of seed ever assimilated in one place. But what good will that do me if I want a particular variety of seed for my garden that a large multinational won't sell?
It is important to know also that the giants I am speaking about control the vast majority of seed production. Even if you buy your seed from a small mail-order heirloom seed marketer, the actual production of the seed is typically done by a different company.
One of the wonderful characteristics of the isolated hilltops and hollows of Sunny Cal is the wealth of our own local seed savers.
This activity, practiced here for generations, is an art that has been abandoned by most of America's gardeners. Saving and cultivating an array of the open pollinated varieties of food crops adapted to our region and growing conditions is what true food safety is all about.
I encourage all gardeners to learn and understand more about the importance of preserving the heritage of the foods we consume and to dedicate a portion of their crops to this purpose.
If we depend solely on the offerings of the seed catalogs that will be filling our mailboxes this winter to provide abundance from our gardens we will find that our choices of the varieties available to us are shrinking rapidly.
For a deeper look into this and other important topics in agriculture, please explore our web site at www.bereagardens.org or call us in Minnora at 304-655-7389.
Berea Gardens is developing a local seed bank for the preservation and distribution of plant varieties specific to our region.
GROWING VEGGIES IN WINTER - High Tunnel Structures Extend Growing Season
www.bereagardens.org