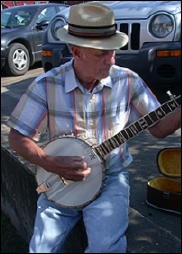 By Mack Samples
www.macksamples.com I just reviewed an article which listed the top ten selling vehicles in America so far this year. I was saddened to see that six out of the top ten were foreign made. While the Chevy and Ford pickups held the top two spots in sales, Toyota remains the top selling sedan.

I cannot help but wonder why American passenger cars are failing to capture the imagination of the consuming public in this country. There may be a multitude of reasons. But in my mind, the American news media has played a big part in the decline in the number of American made cars on our roads.

Even in this very article, the reviewer seemed reluctant to include the Chevy Malibu in the top ten. He basically said it was an OK car but that it would only appeal to a narrow market and that the add ons were very expensive. Just about every automobile writer that I know will avoid recommending an American brand when they suggest what kind of car you should buy. Even the guy who reviews cars for the very pillar of American conservatism, the Wall Street Journal, will recommend a foreign model eight out of ten times.

I cannot begin to tell you how many articles I have read touting the fact that there are all kinds of Toyotas on the road with two to three hundred thousand miles on them. These articles seem to insinuate that no American car will survive that many miles. If they would come around, I could show them all kinds of American cars with two to three hundred thousand miles on them. I know of one "89 Mercury Topaz that ran 320 thousand miles on the original engine. My own 2004 Buick Rainier has been driven 105,000 trouble free miles. My 2003 Chevy S-10 has never had a major problem.

If you sit down and try to digest all of the articles that have been written about American cars, you almost come to the conclusion that somebody, somewhere, was hell-bent on destroying General Motors…and they did. While that corporation may someday resurface and survive as a public entity, it will never be what it once was. Back before the big crash, GM was selling SUVs and Pickups hand over fist. Yet when gasoline hit four dollars plus a gallon, the news media tried to lead us to believe that GM should have known gasoline was going to peak. No one, anywhere, predicted that was going to happen!

Every article I read during that crisis went on and on about how horrible it was that GM was making and selling those gas guzzlers. Yet, both GM and Ford were also making cars at that time that got 35-40 miles per gallons. And, Toyota was also producing gas guzzlers.

What happened to those days when America and corporate America were one? What happened to those days when the news media was pro-American? What happened to that little jingle that Dinah Shore used to sing at the end of her program each evening back in the 50's?

See the USA in your Chevrolet,
America is asking you to call,
Drive your Chevrolet through the USA,
America's the greatest land of all!

And then, she threw us a kiss.